Word Knowledge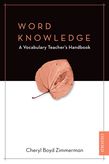 Word Knowledge
The Vocabulary Teacher's Handbook
Practical strategies to identify learner errors, provide feedback, and recognize problem areas.

To know a word means to know a great deal about it - including its meaning, collocations, grammatical features, derivations, register, and appropriateness. This book helps teachers address all the layers of word knowledge.
Each title in the series is intended to serve both as a basis for training courses and seminars, and as a reference text.