ELT Journal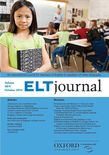 ELT Journal
ELT Journal is a quarterly publication for all those involved in English Language Teaching (ELT), whether as a second, additional, or foreign language, or as an international Lingua Franca. The journal links the everyday concerns of practitioners with insights gained from relevant academic disciplines such as applied linguistics, education, psychology, and sociology.
ELT Journal is aimed at people involved in English language teaching who are interested in keeping up with the latest developments in the field.

It provides a truly international forum for the exchange of ideas and information, with contributors and subscribers in over 100 countries.

ELT Journal is published quarterly in association with IATEFL.

Subscribe to ELT Journal.

Practical articles to keep you informed about the latest developments in English Language Teaching.
Debates about topical, controversial issues.
Book reviews and website reviews to give you critical assessments of the latest materials and resources.
Accessible, in-depth definitions of the latest EFL terminology.
The full text of the ELT Journal, including all back issues from 1996, is also available online to subscribers.
View current table of contents
Regular features include:
Articles – practical articles on a wide range of topics
Book reviews – critical assessments of new publications
Book surveys – comprehensive surveys of coursebooks, readers, and other genres
Website reviews – reviews of websites which are useful for teachers and learners
Key concepts – accessible, in-depth definitions of the latest EFL terminology
Point and counterpoint – debates on topical issues
Readers respond – readers can contribute their own reactions and experiences related to issues raised in ELT Journal