Cross-curricular Activities e-book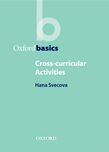 Cross-curricular Activities e-book
| | |
| --- | --- |
| Format: | e-book (Kindle, ebooks.com, Kobo, Apple devices, Android, OLF, RM Books) |
Oxford Basics are short, easy-to-use books based on communicative methodology. They provide ideas for teachers and guidance on how to handle everyday classroom situations.

ISBN:

978-0-19-442633-6

Print Length (pages):

72
Lots of hands-on activities.
Easily accessible resources.
Can be used between elementary and intermediate levels.
Aimed at higher primary and secondary.
Introduction
Activities
1 Coat of arms
2 Animals
3 Fractions
4 Drawing a song
5 Plants
6 Experiments with a glass of water
7 Gold Rush routes
8 Multiplying and dividing
9 Leaves
10 Health
11 Moving pictures
12 Weather
13 Measurements
14 The Stone Age
15 Sight
16 Pictograms
17 The Solar System
18 Sound and hearing
19 Musical instruments
20 Weight
21 Library
22 Maps
23 Materials
24 Tree rings
25 Pulse
26 Fruit and vegetables
27 Voice
28 Timetable
29 Touch, taste, and smell
30 Framed pictures