Storytelling e-book
Storytelling e-book
Format:
e-book (Kindle, ebooks.com, Kobo, Apple devices, Android, OLF, RM Books)
See also:
Paperback

|

e-book
Activities to encourage children to tell and respond to stories. This book introduces a wide range of story and activity types to stimulate young learners to use and respond to English in a creative and enjoyable way.
Only uses resources that are easy to find and make.
Ideal for busy teachers who need quick and easy-to-follow ideas.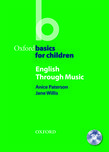 A series for teachers of young learners which provides adaptable teaching ideas in an easy-to-follow format.