Communication in the Language Classroom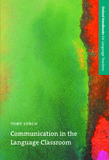 Communication in the Language Classroom
A book about classroom interaction and how to teach communication skills to language students.
This book looks at how communication between students works, and gives language teachers practical suggestions for encouraging interaction through classroom tasks.
What really happens when students try to communicate with each other in the classroom? What makes them succeed? Why do they sometimes fail?

In this book, Tony Lynch uses classroom research and transcripts from real lessons to explain the process of classroom interaction. He shows how this can help teachers with assessing students' performance and designing communicative tasks that work.
Surveys the findings of recent research into classroom interaction involving language learners
Discusses the implications of this research for designing classroom communication tasks
Offers practical suggestions for applying the ideas in the book to the classroom
Supports explanations with transcripts of recordings of real language classes made by the author over a twelve-year period
Suitable for trainee teachers on Diploma/Master's courses, as well as new and experienced practising ELT/ESL teachers.
In this book, Tony Lynch sets out to explain how classroom communication works. He explains ways of understanding why people succeed or fail in getting their meaning across. He then shows how you can use this knowledge to make students better at communicating in a new language.

The book is divided into two parts:

Part One looks at the features and characteristics of natural communication that we need to be aware of as language teachers. It contains chapters on:
- Communicating inside and outside the classroom
- Simplicity and accessibility
- Teacher Talk
- Modification research (research into what happens when teachers try to change the way they speak when talking to learners, and whether this actually aids comprehension)

Each of these more theoretical chapters includes a concluding section on 'Implications for classroom practice': these sections tie in the research presented in the chapter with practical ideas that can be applied to the classroom.

Part Two sets out a variety of ways of encouraging communication through language tasks. There is a chapter on each of the four traditional language skills: listening, speaking, reading, and writing.

Each chapter ends with a summary and suggestions for further reading, and there is a glossary and full bibliography at the end of the book.
Acknowledgements
Introduction
PART ONE: Input, interaction, and negotiation
1 Communicating inside and outside the classroom
Introduction
'Teacher Talk'
- Activity: Giving explanations
'Learner talk'
Terms for 'negotiation'
Comprehension
- Complexity of comprehension
- Comprehension and foreign language development
Summary
- Suggestions for further reading
2 Simplicity and accessibility
- Activity: Beyond the text
Comprehension resources
Non-linguistic simplification
- Context
- Background knowledge
- Activity
Simple = accessible?
Simplifying texts
Explanation
Accessible versus noticeable
Summary
- Suggestions for further reading
3 Teacher Talk
- Activity: The hat seller
Input modifications
Interaction modifications
- Activity
Modifications of information choice
- Descriptive detail
Logical links
Assumed socio-cultural gaps
Implications for classroom practice
Summary
- Suggestions for further reading
4 Modification research: findings and implications
Problems of measurement
- Activity: What do students understand?
Effects on comprehension
- Input modifications
- Interaction modifications
Modifications of information choice
Effects on learning
- Implications for classroom practice
Summary
- Suggestions for further reading
PART TWO: Classroom applications - interaction-based teaching
Introduction
5 Teaching listening
- Activity: Spoken language
Problem-solving strategies
- Paused listening tasks
Types of listening
Grading
- Interaction-based grading
Summary
- Suggestions for further reading
6 Teaching speaking
- Activity: Questions in class
Teacher-learner interaction
Learner-learner interaction
Setting up negotiation tasks
- Introducing negotiation
- Grouping
- Distributing the information
Feedback
- Teacher-learner feedback
- Learner-learner feedback
- Combining learner and teacher feedback
Summary
- Suggestions for further reading
7 Teaching reading
- Activity: A difficult text
Choice of texts: authenticity
Interaction with texts
- Think-aloud interpretation
- Reciprocal teaching
- Modifying a text
Interaction about texts
- Question-setting
Summary
- Suggestions for further reading
8 Teaching writing
Writing as interaction
- Decomposition
Classroom writing: the role of the reader
Classroom writing: the role of the teacher
- Activity: A writing lesson
Feedback during writing
- Learner-initiated feedback
Feedback after writing
- Clarification requests
Summary
- Suggestions for further reading
9 Postscript
Four reasons for not changing anything
'We don't have the resources'
'Our classes are too large for interaction'
'Our students don't expect to be taught that way'
'We haven't been trained to teach like this'
Glossary
Bibliography
Index
'A valuable, practical contribution to the field of language teaching.'
- Modern Language Journal