Success in English Teaching e-book for Kindle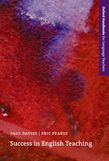 Success in English Teaching e-book for Kindle
An introduction to teaching English in a range of situations for initial teacher training courses and non native-speaker teachers.
ISBN:

978-0-19-435823-1

Print Length (pages):

240
Whether you are a pre-service trainee, a practising teacher, or a teacher-trainer, Success in English Teaching is an invaluable source of insights and practical suggestions.

The authors draw on their own experience as teacher trainers to help teachers to prepare for a wide range of teaching situations, including ones where classes are large and resources limited.
Clear, easy to follow, and free of jargon - does not assume the reader is a native speaker of English
Covers all the major topics relevant for trainee teachers with the right level of detail
Strong focus on classroom teaching, applying theoretical principles to hands-on teaching practice
Can be used if you have little or no formal training as an English teacher
Especially useful if you are working in the students' own country (rather than an English-speaking country)
Can be used either as a complete course in English teaching or, if you already have some experience, as a reference book
Introduction
1 A general approach to teaching English
Introduction
Recognizing success in teaching English
Teachers and teaching
Co-ordination of English language departments
Establishing goals and objectives in teaching English
Variations in course goals
Communication first and last
English as the main classroom language
Routine communicative activities
A general model of English teaching
Creating conditions for learning
Learner participation
Motivation
Summary
Project
2 Presenting new language items
Introduction
New items in an English language course
What you need to know about new items
Functional-grammatical items
Presenting new functional-grammatical items
Teaching analysis and planning
Presentation procedures
Coursebook material
The place of writing in presentation
Writing for clarification and consolidation
From presentation to practice
Summary
Project
3 Organizing language practice
Introduction
The difference between accuracy and fluency practice
Practice and communication
Oral accuracy practice
Language patterns and substitution
Accuracy practice and communication
Information gaps
Elicitation in accuracy practice
Interactions
Topics and activities
Oral fluency practice
Types of fluency activity
Feedback and correction in oral practice
Feedback and correction in accuracy work
Feedback and correction in fluency work
Written practice
Summary
Project
4 Handling vocabulary
Introduction
Vocabulary in language teaching and learning
Dealing with new vocabulary
Meaning and use in communication
Pronunciation and spelling
Grammar
Working on vocabulary
Remedial work
Summary
Project
5 Developing spoken communication skills
Introduction
Communication
Communication outside the classroom
Communication in the classroom
The four skills
Listening
Classroom listening
Recorded texts
Speaking
Classroom speaking
Speaking activities
Summary
Project
6 Developing written communication skills
Introduction
Spoken and written language
Reading comprehension
Ways of reading
Reading activities
Reading outside the classroom
Writing
Writing activities
Integrating skills
Summary
Project
7 Review and remedial work
Introduction
The need for review and remedial work
The language learning process
Input, imitation, and cognitive hypotheses
Subconscious and conscious processes
Errors and learning
Pedagogical and natural syllabuses
Variables
Implications for review and remedial work
Review activities
Remedial work
Personalized remedial work
Summary
Project
8 Planning and managing classes
Introduction
Long-term planning
The course syllabus
Syllabus units
Short-term planning
Work plans
Lesson planning
Class management
Getting attention and participation
Giving and checking instructions
Managing pair and groupwork
Teacher and learner roles
Discipline
Different teaching situations
Children's courses
Large groups
Summary
Project
9 Working with a coursebook
Introduction
Ways of using a coursebook
What coursebooks can offer
The syllabus
Language presentation material
Language practice material
Skills development material
A sequence of work
Recycling and review of language
Additional material
What a coursebook cannot provide
Preparing to use a new coursebook
Exploiting a coursebook
Using language presentation material
Using language practice material
Using skills development material
Using review and clarification material
Lesson planning around coursebook material
Choosing a coursebook
Summary
Project
10 Teaching aids and materials
Introduction
Different teaching contexts
Using the board
Writing and general organization
Board drawing
Designing and using prepared visual materials
Wall-charts
Cue-cards
Real and imaginary objects
Realia
Mime and gesture
Audio-cassettes
Materials and activities
Video
Selecting material
Summary
Project
11 Testing and evaluation
Introduction
Teaching, testing, and evaluation
Teaching and testing
Testing and evaluation
Basic aspects of testing
Types of test
Validity and reliability
Balancing validity and reliability
Writing and evaluating achievement tests
Comparing tests
Test exercises and tasks
Improving tests
Evaluating learning, teaching, and courses
Evaluating learning
Evaluating teaching
Evaluating courses
Summary
Project
12 Development in teaching English
Introduction
Teachers and ways of teaching
Approach and method
A survey of approaches and methods
The Grammar-translation Method
The Direct Method
Situational Language Teaching
The Audiolingual Method
'... a useful resource for practitioners at any level.'
- Modern Language Journal
'I would strongly recommend this book for any new teacher as well as for experienced teacher trainers.'
- English Language Teaching News