How Languages are Learned (e-book)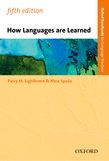 How Languages are Learned (e-book)
Fifth Edition
| | |
| --- | --- |
| Format: | e-book (ebooks.com, Kobo) |
Now in its fifth edition, the award-winning How Languages are Learned has established itself as an indispensable introduction to research in language acquisition and its relationship with classroom practice.
Patsy Lightbown and Nina Spada have worked for over four decades in second language research and education. They are highly respected worldwide for making theory and research about language learning accessible and relevant to classroom teaching. This widely acclaimed book remains essential reading for second language teachers.
Updated content highlights the latest research into second language learning and its relevance to classroom practice
Activities and questions for reflection personalize content and support critical thinking
Chapter summaries, discussion questions and supplementary activities are available online at www.oup.com/elt/teacher/hlal
This book is part of the Oxford Handbooks for Language Teachers series. This highly regarded series covers the topics language teachers want to know more about. Recommended for reference, or for language teacher educators to use as a basis for teacher education courses or seminars.
"How Languages are Learned is written in a clear, engaging, and pedagogically rich style. In their authoritative yet accessible book, Lightbown and Spada admirably combine established theories and the latest developments in research. This fifth edition remains the best resource for teachers to understand second language acquisition so they can critically integrate research-based insights into their classrooms."
- Lourdes Ortega, Professor in Applied Linguistics, Georgetown University

Each title in the series is intended to serve both as a basis for training courses and seminars, and as a reference text.