ESOL: A Critical Guide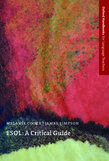 ESOL: A Critical Guide
A survey of the teaching of ESOL (English for Speakers of Other Languages) to migrants in English-speaking countries.
Melanie Cooke and James Simpson
A survey of the teaching of ESOL (English for Speakers of Other Languages) that questions its practices, policies, and cultural assumptions.
Political controversies and economic constraints mean that ESOL - the teaching of English in English-speaking countries - is constantly in the news.

This book gives you an up-to-date, broad understanding of ESOL and how it is taught and learnt. It also places ESOL in its wider social, political, and economic contexts and addresses many of the challenges teachers and learners currently face.
Describes the diversity of ESOL learners (and teachers) and explores the challenges this creates for policy makers and people directly involved.
Discusses the teaching and learning of both oral communication and literacy (including electronic literacy)
Focuses on the UK, but relevant to ESOL around the world
Uses extracts from interviews and transcripts of classroom activities with real ESOL students and teachers throughout
Authors draw on their own personal experiences of teaching and researching ESOL
Useful for both trainee and practising ESOL teachers, and for anyone with an interest in the field
ESOL: A Critical Guide describes the diversity of ESOL learners in terms of their backgrounds and life experiences, ranging from asylum seekers and migrants to people coming from more settled backgrounds. The authors look at how policy makers, teaching institutions, and individual teachers meet the challenge of addressing this huge range of needs and expectations.

This book differs from other introductions to ESOL in that it includes coverage of some of the more controversial aspects of the field. Contentious issues such as migration and asylum, citizenship, social exclusion, the economy, and globalization all affect ESOL in different ways, and the authors discuss all these and give a personal perspective based on their own experiences as teachers and researchers.

The book is organized into eight chapters:

- Chapter 1: 'ESOL in the world' gives a general overview, with a particular focus on England, Wales, and Northern Ireland.
- Chapter 2: 'A world of difference' focuses on ESOL students and the different contexts in which they learn.
- Chapter 3: 'The challenges of ESOL practice' looks at the field from the teacher's perspective.
- Chapter 4: 'The content of ESOL lessons' explores both published materials and student-generated content, and includes a section on taboo topics.
- Chapter 5: 'Oral communication' looks at some of the particular challenges of teaching speaking and listening skills in the ESOL classroom
- Chapter 6: 'ESOL, literacy, and literacies' includes discussion of the extent to which literacy teaching should be seen as preparation for employment
- Chapter 7: 'ESOL and electronic literacy practices' extends the discussion of literacy to include web literacy and different forms of electronic communication
- Chapter 8: 'Learning about teaching' describes how teachers can develop through engagement with research.

Each chapter also contains activities which can be used for reflection (by individual readers) or for discussion (by classes or groups). There are also suggestions for further reading at the end of each chapter, and a full bibliography at the end of the book.
Acknowledgements
Introduction
1 Key concepts of language learning and teaching
A definition of ESOL
Terminology to refer to the learners
Overview of ESOL delivery in the UK
Further reading  
2 The learners
The learners' backgrounds
English language and other skills
Psychological aspects
Tolerance and discrimination
The culture of learning
Further reading  
3 The context of ESOL teaching
The main characteristics of the ESOL class
ESOL and literacy teaching
The four language skills
Further reading  
4 Language analysis and language teaching
Grammar
Word order in English
Vocabulary
Language in context
Further reading  
5 The four skills of listening, speaking, reading, and writing
Listening
Speaking
Reading
Writing
Word, sentence, and text level
Summary
Further reading  
6 Managing learning
Language assessment
Individual learning plans and target setting
Planning and delivering lessons
Meeting individual learning needs
Using, creating, and adapting materials
Giving formative feedback
Working with external qualifications
Further reading  
7 Language support
Defining types of provision
Reflecting on language and course content
Language audit
Working out language levels on entry to and exit from the course
Assessment and guidance
Delivering support
Monitoring and evaluation
Establishing the demand for courses
Summary
Further reading  
8 Reflective practice
The attitudes and skills of the teacher
Reflecting on classroom practice
Summary
Further reading  
Glossary
Bibliography
Index
'...an excellent introduction to the world of ESOL for teachers coming into the profession from a traditional EFL background, highlighting for them the key features of the principles of ESOL and the varied characteristics of ESOL learners. It makes essential reading for all.'
- REFLECT, issue 13, 2010
'A much needed book, and the authors are to be congratulated. It really should be required reading for any new entrant to language and literacy teaching, and teacher educators should make a point of adding it to their core reading lists for Initial Teacher Education courses. It is likely to foster critical and reflective approaches - and this has to be something new teachers, and the profession generally, can only benefit from.'
- Language Issues, Volume 20/1
You may also be interested in...