Oxford ESOL Handbook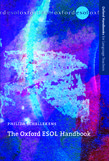 Oxford ESOL Handbook
A practical 'toolkit' for developing students' language skills in the ESOL classroom.
A practical guide for teachers of English to speakers of other languages (ESOL) working with migrants and refugees in English-speaking countries.
ISBN:

978-0-19-442281-9

Pages:

236

Binding: Paperback
Dimensions: 246x167 mm
How can migrants and refugees living in English-speaking countries best learn the language? What are their wider goals in terms of using their English for study, work, and citizenship? How can teachers of English to speakers of other languages (ESOL) help them to define and achieve these goals?

This book answers these questions through providing ESOL teachers with a practical 'toolkit' for developing students' language skills.
Focuses on the students: their backgrounds, characteristics, experiences, and first languages, and shows how all these affect them as learners
Develops your understanding of how English works and what might make its structure confusing for learners, and shows you how to apply this knowledge to your teaching.
Gives teachers new to ESOL (for example teachers of English as a Foreign Language or of adult literacy) a complete introduction to ESOL teaching
Enables experienced ESOL teachers to check and update their knowledge of recent developments, new approaches, and research findings
Provides teacher trainers with a valuable resource for training ESOL teachers
ESOL teachers have to focus not just on teaching students English, but also on why and how they need to use English in real life. Because of this, The Oxford ESOL Handbook promotes the use of teaching activities that reflect situations in which learners have to use English in their everyday lives. This might range from saying hello to neighbours or writing a note to their children's teacher, to finding a job or attending a course of study.

The book is organized in eight chapters:

Chapter 1: reviews the history of teaching English to migrants and refugees;

Chapter 2: provides information on learners' backgrounds and how these might affect classroom learning

Chapter 3: describes the characteristics of teaching English to speakers of other languages, contrasting it with how we teach literacy to people whose first language is English.

Chapters 4 and 5 look at ways of analysing English. They cover grammar, tenses, word order, and vocabulary learning, as well as the 'four skills' of speaking, listening, reading, and writing.

Chapter 6: deals with how to manage learning and covers such areas as assessing learners' skills, lesson planning, giving feedback on language use, and evaluating lessons.

Chapter 7: focuses on how to teach English to support mainstream vocational courses, for example carpentry, nursing, and hairdressing.

Chapter 8: looks at 'reflective practice' - ways in which practising teachers can challenge their assumptions about teaching or learning in ways that can make what happens in the classroom more effective.

There is a glossary of technical terms used at the end of the book. There are suggestions for further reading at the end of each chapter as well as a complete bibliography at the end of the book.
Acknowledgements
Introduction
1 Key concepts of language learning and teaching
A definition of ESOL
Terminology to refer to the learners
Overview of ESOL delivery in the UK
Further reading  
2 The learners
The learners' backgrounds
English language and other skills
Psychological aspects
Tolerance and discrimination
The culture of learning
Further reading  
3 The context of ESOL teaching
The main characteristics of the ESOL class
ESOL and literacy teaching
The four language skills
Further reading  
4 Language analysis and language teaching
Grammar
Word order in English
Vocabulary
Language in context
Further reading  
5 The four skills of listening, speaking, reading, and writing
Listening
Speaking
Reading
Writing
Word, sentence, and text level
Summary
Further reading  
6 Managing learning
Language assessment
Individual learning plans and target setting
Planning and delivering lessons
Meeting individual learning needs
Using, creating, and adapting materials
Giving formative feedback
Working with external qualifications
Further reading  
7 Language support
Defining types of provision
Reflecting on language and course content
Language audit
Working out language levels on entry to and exit from the course
Assessment and guidance
Delivering support
Monitoring and evaluation
Establishing the demand for courses
Summary
Further reading  
8 Reflective practice
The attitudes and skills of the teacher
Reflecting on classroom practice
Summary
Further reading  
Glossary
Bibliography
Index
'...an excellent introduction to the world of ESOL for teachers coming into the profession from a traditional EFL background, highlighting for them the key features of the principles of ESOL and the varied characteristics of ESOL learners. It makes essential reading for all.'
- REFLECT, issue 13, 2010
'A much needed book, and the authors are to be congratulated. It really should be required reading for any new entrant to language and literacy teaching, and teacher educators should make a point of adding it to their core reading lists for Initial Teacher Education courses. It is likely to foster critical and reflective approaches - and this has to be something new teachers, and the profession generally, can only benefit from.'
- Language Issues, Volume 20/1

Each title in the series is intended to serve both as a basis for training courses and seminars, and as a reference text.

Practical guides to understanding and implementing new developments in teaching
You may also be interested in...