Teaching Second Language Reading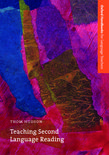 Teaching Second Language Reading
A guide to teaching reading skills for teachers of English as a foreign language.
This book helps language teachers both to improve their strategies in teaching reading and to understand the reading process.
ISBN:

978-0-19-442283-3

Pages:

360

Binding: Paperback
Dimensions: 246x167 mm
How do people read - and learn to read - in a foreign language? How is second language reading similar to and different from first language reading?

This book addresses these and many other questions with the aim of helping you to develop and improve your strategies for teaching reading skills. It discusses theory and research, but also encourages you to reflect on how you read and teach reading.
Gives you a thorough overview of theory and research relating to second-language reading.
Includes practical suggestions for teaching reading in different contexts.
Presents a variety of strategies for reading and teaching reading and discusses how to use them in appropriate contexts.
Sets the skill of reading in a wider psychological and social context
Can be used as a textbook or self-study text for trainee teachers or as a reference guide for practising teachers.
In this thorough and detailed study of second language reading, the author focuses on four main themes, which recur at different points throughout the book:

1. How is the way in which a reader reads and interacts with a text related to its context and familiarity?

2. To what extent are the language and processing problems experienced by readers affected by how familiar and easy the reading task is?

3. In what ways can learners' knowledge of the world help them with the reading process and with acquiring the vocabulary they need to read effectively?

4. What makes reading tasks meaningful for learners and how does this affect their motivation, interest, and engagement as readers?

The book is organized into eleven chapters:

Chapter 1: Issues in reading. (Introduction and overview)

Chapter 2: Theories and models of first language reading processes

Chapter 3: Second language reading issues. (Includes discussion of the relationships between first- and second-language reading and learning to read)

Chapter 4: Reading skills. (Includes coverage of key terminology, such as 'lower-level' and 'higher-level' skills.)

Chapter 5: Strategies and metacognitive skills

Chapter 6: Content schema and background knowledge in second language comprehension. (How your students' background and existing knowledge affects the way they interpret reading texts.)

Chapter 7: Formal schema and second language reading (How texts are structured linguistically, and how this affects teaching.)

Chapter 8: Genre and contrastive rhetoric (Includes discussion of differences in how different kinds of text are organized in different languages.)

Chapter 9: Vocabulary in second language reading

Chapter 10: Reading and writing relationships

Chapter 11: Wrap-up of second language reading (Focuses on teaching issues.)

Each chapter includes discussion and study questions at the end. There is also a glossary of terminology used in the book.

Each title in the series is intended to serve both as a basis for training courses and seminars, and as a reference text.

Practical guides to understanding and implementing new developments in teaching