Focus on Literacy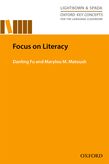 Focus on Literacy
Danling Fu and Marylou M Matoush

| | |
| --- | --- |
| Format: | Paperback |
| See also: | e-book |
Focus on Literacy explores research on second language literacy development and how such research can inform instructional decision-making for teachers of students aged 5-18.
ISBN:

978-0-19-400086-4

Pages:

144

Binding: Paperback
Dimensions: 234x156 mm
Focus on Literacy explores research on the second language literacy development of learners aged 5-18. It demonstrates how teachers can interpret such research to facilitate their instructional decision-making and classroom practice.

This book examines second language literacy development and identity formation in a globalized world from a sociocultural and sociolinguistic perspective. It discusses the complexity of communicative competence and emphasizes the value of strong learning support through scaffolded activities that encourage students to express their understanding and insights in meaningful contexts.

Examples are taken from real classroom practice and key research studies, and activities encourage reflection and interaction. This book promotes an informed stance for teachers seeking to empower learners as well as themselves as they encounter the rapid changes of the 21st century.
Examples taken from real classroom practice and key research studies.

Research relevant to English language learners aged 5-18 is highlighted.

Additional online resources.

This book is part of the Oxford Key Concepts for the Language Classroom series, focusing on key topics for teaching English as a second or foreign language to learners aged 5-18. These instructional guides are informed by research in second language acquisition and language pedagogy, and show the relevance of theory to the practising teacher.
'Spotlight studies' highlighting important research.
'Classroom snapshots' show different teaching approaches in practice.
'Activities' help you make connections between research and theory and your classroom context.
Suitable for students working towards MA TESOL, graduate certificates, or diploma qualifications, and for practising teachers' professional development programs.
"Focus on Literacy brings the teaching of literacy in the language classroom into the 21st century. Drawing on concrete classroom scenarios and instructional activities, this book highlights the connections between multiple literacies and students' evolving identities and explores how we can teach 21st century literacies in powerful and effective ways."
- Jim Cummins, Professor Emeritus, Ontario Institute for Studies in Education, University of Toronto
"part of a new series linking research and practice... Suitable for teachers doing an MA TESOL, a diploma and professional development courses. Worth investigation."
- EL Gazette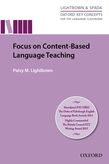 These research-led instructional guides link the theories of second language acquisition and pedagogy with classroom practice, enabling teachers to reflect on what happens in the language classroom. The series editors, Patsy M. Lightbown and Nina Spada, are highly respected worldwide for making theory and research about language learning accessible and relevant to classroom teaching.