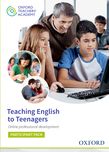 Hello
You can visit our worldwide website for our globally available teaching resources, or visit our local website for for products, events and materials for your area.
Please choose below:
Teaching English to Teenagers
Online Professional Development
Teaching English to Teenagers is a course designed to support teachers of secondary age students. It aims to enhance the knowledge and skills needed to deliver engaging and motivating lessons to teenagers. By taking into account the changes teenage students are experiencing, teachers are better equipped to manage the needs of this age group.

This eight module course balances theory and methodology, with topics ranging from supporting teenager learners, to classroom management and assessment. The course takes approximately 30 hours to complete, and couples engaging content with opportunities for reflection and discussion with teachers around the world.
Participant Online Code
Participant Code Card
Moderator Code Card
Empowers teachers to facilitate a positive learning environment for their teenage learners
Develops awareness of the unique needs and characteristics of teenagers
Explores strategies and techniques to best support language development
Supports teachers in implementing authentic content in their classrooms
Oxford Teachers' Academy courses are suitable for teachers with an initial qualification and some teaching experience. Typically they provide 30 hours of core material spread over 8 sessions, with suggestions for further reading and interesting websites, videos, and blogs for each topic.

Participants have 12 months to access the course content on their computers anytime, anywhere with access to the internet. That means they can fit their study around teaching commitments, at a pace to suit their own learning style.

Session aims and topics have been mapped onto the EAQUALS Framework of Language Teacher Training and Development.

The structure of the session specifically facilitates self-study and helps all participants stay engaged through a media-rich, interactive learning experience, encouraging reflection, and providing suggestions of possible answers and solutions. Participants can also contribute to and create discussions and chat with other teachers taking the same course.

The courses are full of innovative ideas, approaches and theories. They offer plenty of food for thought, including chapters from Professional Development and Applied Linguistics books, video interviews with experts, and links to academic journals. To fully benefit from this rich resource, we recommend English proficiency level of at least B2 on the CEFR.

Completion of Oxford Teachers' Academy courses is certified by Oxford University Department for Continuing Education. In order to receive a Certificate of Completion, course participants must submit an Evidence of Learning Journal on completion of the course. The Evidence of Learning Journal will be evaluated against the Evaluation criteria. If all criteria are met, participants will receive an electronic Certificate of Completion within six weeks of submitting the Evidence of Learning Journal
"My first impressions are really positive. What I liked the most was the variety of activity types. At first I thought there would be too many articles and long texts with tiny letters... But then I discovered that there were many videos and short texts which were enjoyable and easy to read. After the theory, there were also interactive exercises to help us (teachers) to keep the important information in mind."

Juliana Faria – Brazil (Teacher)

"I love the videos, especially the animation "How teenagers change". I wish I could download it and show to my students. It's a fun way to acquire information. I feel really disappointed when I skip to a new page and there is no video there."

Anna Sotomska – Poland (Teacher)
This year I started an Oxford Teachers' Academy course from Oxford University Press. I chose 'Teaching English to Teenagers', which has given me the opportunity to know a bit more about them and to consider my teaching skills, as well as reading different books about methodology , talking to other teachers ,and being part of a teachers´community.

Oxford Teachers' Academy allows us to study online, so we can do it at home. Access lasts for twelve months so this means that it is quite flexible and we can adapt it to our timetables. I found the course very interesting although I found some of the sessions a bit long . In spite of this, I´m very fond of doing it because when you start a session you don´t want to stop! The modules are really engaging .

I highly recommend to those who wants to re-think and improve their teaching skills .

Betina Miretti Goya – Argentina (Teacher)
Session 1: Helping Teenagers Learn
To examine the main characteristics of teenager learners
To look at the skills teenage learners need to succeed
To investigate techniques to improve motivation in teenagers
Session 2: Classroom Management and Motivation
To reflect on classroom management from the perspective of creating a positive learning environment
To define the elements of a positive learning environment
To identify the best ways of motivating teenagers
To explore the role played by technology in motivating teenagers
Session 3: Listening and Speaking Skills for Teenagers
To review and develop listening activities for use with teenagers
To review and develop speaking activities for use with teenagers
To explore ideas for using drama in the classroom
Session 4: Reading and Writing Skills for Teenagers
To understand the benefits of extensive reading
To explore strategies to engage learners with reading
To identify and support the writing skills required by teenagers
Session 5: Teaching Grammar to Teenagers
To evaluate different approaches to teaching grammar
To explore different approaches to correction
To explore strategies and grammar activities that are motivating and interesting for teenage learners
Session 6: Teaching Vocabulary to Teenagers
To explore the main principles of vocabulary learning
To evaluate a range of activities for presenting, practising, and revising vocabulary
To explore ways of helping teenage students manage their own vocabulary learning
Session 7: Authentic Contexts for Teaching Teenagers: Project Work and CLIL
To understand the use and benefit of authentic contexts in learning
To explore project work and understand project stages, from planning to presentation
To investigate the key concepts of CLIL and the benefits of CLIL approaches in the classroom
Session 8: Assessment
To show different purposes of assessment
To examine different types of assessment
To evaluate the principles of good assessment
For Teaching English to Teenagers
(1)

Participant Online Code
978-0-19-403175-2
Ideas online today. Inspiration for class tomorrow.
You may also be interested in...