Teaching English to Young Learners Moderator Code Card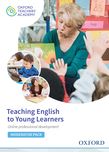 Teaching English to Young Learners Moderator Code Card
| | |
| --- | --- |
| Format: | Mixed media format |
Ideas online today. Inspiration for class tomorrow.
Teaching English to Young Learners is a course for all teachers of primary age students. It aims to provide teachers with the knowledge and skills needed to support young learners through the delivery of engaging and motivating lessons.

This eight module course focuses on aspects such as examining the skills children need to be able to learn effectively, and managing classroom interaction. Aspects such as skills development, evaluation, and assessment are explored through media rich content, and opportunities for discussion with teachers around the world. Participation in this course will give you the opportunity to explore tools and activities that prepare children for lifelong learning.
Provides practical activities to create a motivating and effective learning environment for young learners
Develops awareness of the ways in which children of different ages learn
Explores methods of classroom management and managing interaction with primary students
Highlights strategies and techniques for assessing young learners
Oxford Teachers' Academy courses are suitable for teachers with an initial qualification and some teaching experience. Typically they provide 30 hours of core material spread over 8 sessions, with suggestions for further reading and interesting websites, videos, and blogs for each topic.

Participants have 12 months to access the course content on their computers anytime, anywhere with access to the internet. That means they can fit their study around teaching commitments, at a pace to suit their own learning style.

Session aims and topics have been mapped onto the EAQUALS Framework of Language Teacher Training and Development.

The structure of the session specifically facilitates self-study and helps all participants stay engaged through a media-rich, interactive learning experience, encouraging reflection, and providing suggestions of possible answers and solutions. Participants can also contribute to and create discussions and chat with other teachers taking the same course.

The courses are full of innovative ideas, approaches and theories. They offer plenty of food for thought, including chapters from Professional Development and Applied Linguistics books, video interviews with experts, and links to academic journals. To fully benefit from this rich resource, we recommend English proficiency level of at least B2 on the CEFR.

Completion of Oxford Teachers' Academy courses is certified by Oxford University Department for Continuing Education. In order to receive a Certificate of Completion, course participants must submit an Evidence of Learning Journal on completion of the course. The Evidence of Learning Journal will be evaluated against the Evaluation criteria. If all criteria are met, participants will receive an electronic Certificate of Completion within six weeks of submitting the Evidence of Learning Journal.
I liked the course content and structure. The variety of content presentation and interaction with content are two assets of the course. I liked how content is presented. There are lots of instances of user interaction and lot of variety: slideshows, quizzes, videos, texts, etc. The content is very interesting, easy to follow and beautiful to read/watch on screen.
- Gonzalo Rosetti - Argentina (Teacher)
This is a very enjoyable and colourful online course that teachers can dip into or indeed go through step-by-step and update their skills and knowledge about teaching young learners of English. The most attractive feature of it for me is that the input is so varied: there are cartoons, videos, extracts from books, activities and animations. The interface is user-friendly and the activities and all of the materials used will appeal to an international audience of teachers.
- Anna Maria - Associate Professor (University of Warwick)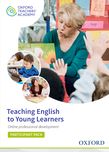 Ideas online today. Inspiration for class tomorrow.