Teaching with Technology Participant Online Code

Price:
GBP 77.99
+ Sales Tax
Teaching with Technology Participant Online Code
ISBN:

978-0-19-437607-5

Price: GBP 77.99 + Sales Tax
Licence Length:

12 months
Teaching with Technology is a course for teachers of any age group who are interested in implementing learning technology into the classroom. It aims to enhance the knowledge and skills needed to confidently integrate digital tools and resources, and reflect on the impact of technology.

This eight module course investigates the role of learning technology in teaching and learning, focusing on aspects such as the impact of learning technologies on language development, and teacher and student roles in a blended learning environment. You will also explore ways in which technology supports learning through assessment, classroom management, and giving feedback.
Enables teachers to make informed decisions on when and how to integrate technology into their lessons
Develops awareness of the importance of digital literacy and its place in 21st Century learning

Provides teachers with the confidence to evaluate learning technologies in a changing digital landscape

Suggests practical activities for utilising a range of tools to support language learning
Oxford Teachers' Academy courses are suitable for teachers with an initial qualification and some teaching experience. Typically they provide 30 hours of core material spread over 8 sessions, with suggestions for further reading and interesting websites, videos, and blogs for each topic.

Participants have 12 months to access the course content on their computers anytime, anywhere with access to the internet. That means they can fit their study around teaching commitments, at a pace to suit their own learning style.

Session aims and topics have been mapped onto the EAQUALS Framework of Language Teacher Training and Development.

The structure of the session specifically facilitates self-study and helps all participants stay engaged through a media-rich, interactive learning experience, encouraging reflection, and providing suggestions of possible answers and solutions. Participants can also contribute to and create discussions and chat with other teachers taking the same course.

The courses are full of innovative ideas, approaches and theories. They offer plenty of food for thought, including chapters from Professional Development and Applied Linguistics books, video interviews with experts, and links to academic journals. To fully benefit from this rich resource, we recommend English proficiency level of at least B2 on the CEFR.

Completion of Oxford Teachers' Academy courses is certified by Oxford University Department for Continuing Education. In order to receive a Certificate of Completion, course participants must submit an Evidence of Learning Journal on completion of the course. The Evidence of Learning Journal will be evaluated against the Evaluation criteria. If all criteria are met, participants will receive an electronic Certificate of Completion within six weeks of submitting the Evidence of Learning Journal
Teaching with Technology is really great for teachers who have some knowledge of technology and digital resources, and are willing to develop more pedagogical approach in their technology-integrated teaching. The websites, blogs, apps, and other digital tools suggested for class use in this course are great to try in order to reach todays digital natives; our students.
- Umit Cebeci - Turkey (Teacher)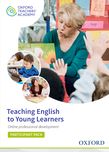 Ideas online today. Inspiration for class tomorrow.