Learner-based Teaching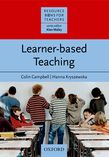 Learner-based Teaching
Colin Campbell and Hanna Kryszewska
Series Editor: Alan Maley
This very popular series gives teachers practical advice and guidance, together with resource ideas and materials for the classroom.
The book provides seventy language practice activities which use the wealth of knowledge, experience, and expertise that learners bring with them to the classroom.
The activities can be used to supplement a coursebook or to form the basis of an entire teaching programme.
The areas covered include grammar, vocabulary, and examination practice.
Teachers working in conditions where there is limited access to published materials will find the book especially helpful.
Note: A full contents list at the front of the book provides a complete list of the activities, the approximate time each activity will take, and the language focus of each Table of Contents activity. The summary below aims to give a general idea of the book's organization.
The authors and series editor
Foreword
Introduction
How to use this book
1 Grammar exercises and drills (10 activities)
The activities are structured around three different aspects of grammar work: tasks requiring learners to use a particular structure or language point; tasks structured to exploit a more general notion, such as past time; and tasks drawing upon the learners' formal knowledge of the target language and its grammar rules.
2 Vocabulary (10 activities)
All these activities aim at expanding vocabulary. They are structured in such a way that they reveal lexical gaps and give learners a chance to fill them, so that students have more control over what they learn.
3 Integrated skills (10 activities)
These activities aim at improving the learners' general competence in the target language.
Each activity contains elements of all four basic skills.
4 Writing (10 activities)
In these activities writing is never carried out in isolation, but is the main focus in an integrated and interdependent activity.
5 Translation (10 activities)
The activities in this section fall into two types: firstly, those which encourage the learner to bring an example of their first language use into the classroom and then work on how to express this in English. Secondly, there are activities which call on learners to dip into their collective cultural heritage in remembering songs, poems, stories and so on.
6 Games (10 activities)
In these activities learners are involved not only in the playing, but also in the preparation of the games. This means learners have meaningful language practice before they play - for example, some of the activities require learners to write clear instructions for the other players.
7 Exam preparation (10 activities)
These activities offer learners practice in dealing with examination-type exercises without doing old papers.
8 How to think learner-based teaching
This section is divided into three parts. The first encourages teachers to consider how much learner-based teaching already exists in their teaching. The second presents two activities to show in detail how lessons can be planned on the principles of such teaching. The third suggests stages for teachers to introduce teacher-based teaching into their repertoire.