Exam Classes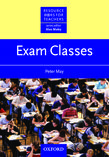 Exam Classes
Peter May
Series Editor: Alan Maley
Experienced authors, experts in their field, keep you up to date with current thinking, share ideas you can use immediately in class, and help you reflect on different approaches to teaching.
Includes sections on the four skills, plus one on grammar and one on strategies for approaching exams.
Includes an exam task-type index to help teachers select activities appropriate for their particular class.
Provides information about the main public ELT examinations set by the British, European, and American boards.
Note: A full contents list at the front of the book provides a complete list of the activities, the types of task covered, and the approximate time required for each activity.The summary below aims to give a general idea of the book's organization.

The authors and series editor
Foreword
Introduction
How to use this book

1 Strategies (12 activities)
This chapter consists of activities designed to raise awareness of exam questions and materials, increase learner independence, and help students to tackle exam papers.

2 Reading (16 activities)
The activities in this chapter will help prepare students for examination papers such as 'Reading Comprehension', 'Reading', and 'Reading and Writing'.

3 Writing (15 activities)
The activities in this chapter will help prepare students for examination papers such as 'Writing', 'Composition', 'Written English', 'Commentary and Essay', and 'Test of Written English'.

4 Grammar (14 activities)
The activities in this chapter are designed to prepare students for examination papers such as 'Use of English', 'Structure and Written Expression', 'English in Use', 'Grammar', 'Linguistic Tests', 'Knowledge of the English Language', and 'English Usage'.

5 Listening (16 activities)
The activities in this chapter are intended to help students prepare for examination papers such as 'Listening Comprehension' and 'Listening'.

6 Speaking (14 activities)
The activities in this chapter will help students prepare for examination papers such as 'Speaking', 'Interview', 'Oral', 'Oral Examination', 'Oral Assessment', 'Oral Interview', 'Oral Interaction', and 'Test of Spoken English'.

Examinations
Bibliography
Index of tasks