Film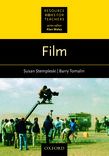 Film
Susan Stempleski and Barry Tomalin
Series Editor: Alan Maley
Experienced authors, experts in their field, keep you up to date with current thinking, share ideas you can use immediately in class, and help you reflect on different approaches to teaching.
Provides activities that help teachers to select, structure, and teach their lessons around films, providing adaptable ideas with popular examples at all levels.
Includes ideas on how to integrate film into a general course and how to set up film projects.
Contains a glossary of helpful terms.
No previous film knowledge is required.
After a useful summary of basic techniques for use with video such as silent viewing, sound only and freeze frame, the book offers a collection of ready-to-use, film-based classroom activities for teachers of EFL/ESL at all levels.
- The Teacher Trainer