Teaching Other Subjects Through English e-book for Kindle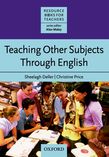 Teaching Other Subjects Through English e-book for Kindle
This book offers over 60 activities especially suited to middle school and high school teachers who teach other subjects through English.
ISBN:

978-0-19-442637-4

Print Length (pages):

168
Over 60 activities, each using a demo subject, which can be adapted to suit a variety of subjects and circumstances.
Ideas to support the subject text book and reduce the language obstacle for teachers and learners.
Appendix of classroom language for non-native speaker teachers.