Hello
You can visit our worldwide website for our globally available teaching resources, or visit our local website for for products, events and materials for your area.
Please choose below:
Aim High Level 6
The secondary course for class, homework, and exam success
Tim Falla, Paul A Davies, Paul Kelly, Susan Iannuzzi
Aim High develops students' knowledge of grammar, vocabulary and study skills encouraging learner autonomy and exam success.
Part of: Aim High
Language Level: Upper-Advanced
Aim High is a six-level course that develops language learning through carefully chosen vocabulary (including words from the Oxford 3000™), texts which are interesting, and essential study skills. The Online Practice (available at levels 1 – 5) provides extra homework activities that can be automatically marked and that teachers can track. Revision and self assessment sections help learners towards exam success and there is extensive testing material too.
Student's Book
Teacher's Book
Workbook
Class Audio CD's
Teacher's Resource Disc
Teacher's Pack
Classroom Presentation Tool
Develops language learning and presents vocabulary through rich and motivating texts.
Includes key words from the Oxford 3000™ (a list of the most important words to know in English) and extends vocabulary knowledge with idioms, expressions, phrasal verbs etc.
Teaches essential study skills and learning strategies and includes a Dictionary Corner at every level.
Saves preparation time with easy-to-use digital materials - great for presentation and practice, and ideal for checking homework.
Encourages self-study with over 180 activities on the Student CD-ROM (available at levels 1-5).
Online Practice (available at levels 1-5) gives teachers the tools to provide differentiated instruction for different groups of students, to track student progress and to improve learning outcomes.
Includes revision and self assessment sections, photocopiable unit tests, and further adaptable tests to suit your individual needs.
Aim High will help your students succeed as language learners in the classroom, with their homework and also in exams. How will it do this? It uses a structured and progressive approach to vocabulary. Within each unit students are taught the meaning of new words but they also learn how and when to use them. There are useful, everyday words, some from the Oxford 3000™, plus expressions, idioms, phrasal verbs and so on. Essential vocabulary for communicating well in English.

To encourage students towards learner autonomy Aim High has lots of opportunities to develop study skills and learning strategies, plus a Dictionary Corner. The Student CD-ROM, with over 180 varied activities, provides opportunities for self-study outside the classroom. Alternatively, Online Practice gives teachers the opportunity to keep in touch with students outside class. Teachers can track their students' progress, see their grades, assign different activities to different groups in mixed-ability classes, set up online discussions with their students on topics from the Student's Book, and more.

The self-check and review boxes will help your students understand how they are progressing. You'll be able to assess them too with the photocopiable tests for each unit, and the adaptable tests from the Test Generator. Please note, Student CD-ROM and Online Practice are available at levels 1-5 only.
For Aim High Level 6
(5)

Class Audio CD (3 Discs)
978-0-19-445455-1

Student's Book
978-0-19-445452-0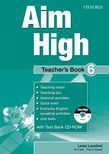 Teacher's Book
978-0-19-445456-8