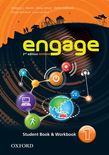 Hello
You can visit our worldwide website for our globally available teaching resources, or visit our local website for for products, events and materials for your area.
Please choose below:
Engage Level 1
A flexible and supportive, topic based course for secondary learners.
Second Edition
Gregory J Manin, Alicia Artusi, Helen Halliwell, Claire Thacker, Robert Quinn, and Lewis Lansford
With a fresh design, revised content and new digital materials, Engage Second Edition offers flexibility and support for students and teachers.
Engage Second Edition retains its successful topic-based learning approach, but now has a revised syllabus providing even greater support for students and teachers.

The fresh design and up-to-date content are attractive to teenagers, and the improved unit structure develops confidence and motivation. Extra materials for teachers, and a full range of digital components, allow for flexibility, and there is also support for mixed ability classes.
Student's Book and Workbook Pack with MultiROM
Teacher's Book
Teacher's Resource MultiROM
iTools
Class Audio CD
Starter Level and Level 1 DVD
Updated real-world topics, with a strong visual impact, ensure high student motivation.
Improved emphasis on listening, speaking, and vocabulary development ensures better communication.
Additional Workbook pages provide more reading comprehension practice.
Digital resources reduce preparation time, and enhance learning in the classroom and at home.
Projects and optional group activities encourage collaborative work.
New Bonus Units offer opportunities for extension or review of the main syllabus.
Extensive new bank of flexible teaching resources and tests suits any teaching style.
Engaging and maintaining students' interest is essential to successful learning. Engage Second Edition does this with its fresh new design and up-to-date topics. The revised syllabus provides new opportunities for students to master vocabulary, encouraging confidence and success. To ensure that new language is accessible and easy to digest, each grammar lesson presents and practices one point and there are lots of opportunities to personalize the language through meaningful tasks with realistic aims.

Each unit contains lessons in all four skills and there is clear step-by-step modeling and simple strategies for support. The Magazine section, Extend your Vocabulary activities, and Extra Reading sections, all help to fulfill the needs of fast finishers enabling teachers to cater for mixed-ability classes.

The 'one lesson per page' in the Teacher's Book makes lesson planning quick and easy.

iTools digital materials enhance students learning and also reduces preparation and marking time. The optional activities for students to interact with each other and share their language learning through project work, gives teachers flexibility, and the Teacher's Resource MultiROM provides a bank of editable tests, additional worksheets, CEFR Portfolio material, and Teacher Management Resources.
Available only with
Engage
Special Edition.
Interactive activities build on the topics and skills from the Student Books.
Instant feedback and repetition builds students' confidence.
Easily track students' progress with the Class Report.