English Plus Starter Teacher's Book with Teacher's Resource Disk and access to Practice Kit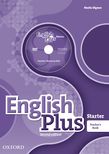 English Plus Starter Teacher's Book with Teacher's Resource Disk and access to Practice Kit
The right mix for every lesson
Second Edition
Ben Wetz and Robert Quinn
| | |
| --- | --- |
| Format: | Mixed media format |
The English Plus Teacher's Resources offer a wealth of support so that you can save time in lesson preparation, and deliver classes perfectly tailored to your students.
The Teacher's Book has over 100 pages of teaching notes which provide comprehensive support for every lesson. A reproduction of the Student's Book lesson on each page of the Teacher's Book makes lesson planning and marking easier. Optional activities throughout the Teacher's Book offer flexibility for managing classes of all abilities.

The Teacher's Resource Disk offers even more material which you can adapt to suit your classes. Unit and Progress tests at three levels with A/B versions means evaluation and testing is comprehensive and secure. Photocopiable worksheets at three levels provide additional structured grammatical, lexical and communicative practice for each unit. Plus, 'How to...' resources offer practical advice on teaching mixed-ability classes, getting your students to talk, and other common classroom management issues.
This pack includes:
Teacher's Book
Teacher's Resource Disk
Online Practice Kit
The Teacher's Book contains an introduction with information on English Plus methodology
Teaching notes and answers for all the Student's Book material
Ideas for extra optional activities and mixed-ability classes
Background notes, cultural information, and language notes.
The audio scripts for the Student's Book and the Workbook
The Workbook answer key
A Teacher access card to the online Practice Kit
The Teacher's Resource Disk contains Photocopiable language focus and vocabulary worksheets at three levels: basic, revision and extension
Photocopiable speaking worksheets
Diagnostic tests to use at the beginning of the school year
End-of-unit tests, including listening, vocabulary, grammar, reading and writing activities at three levels: basic, standard and higher. There is also a speaking test for each unit
End-of-term and end-of-year tests at three levels: basic, standard and higher
Five-minute tests covering language from the vocabulary and language focus lessons
Parallel (A/B) tests are also offered to prevent copying
All the tests are available as editable Word files and PDFs
An audio CD element is included, which can be played on a CD or DVD player
Bright dynamic activities grab students' attention!

Striking visuals grab students' attention and a rich offering of content and activities keep students motivated. Video clips integrated into every unit bring real world English into the classroom and provide students with models for speaking and pronunciation. The online Practice Kit also offers media rich content with more never seen before videos. Grammar animations make rules and structures more memorable and new Puzzles and Games pages at the end of every unit offer a fun way to consolidate the language.

Building block approach develops the 4 skills

A greater focus on sub-skills gives students systematic ways to improve all 4 skills. In every lesson each activity gradually builds on the knowledge and skills needed to successfully complete the final Use it! task and achieve the lesson objective. For the productive skills, writing guides and model dialogues lead students step-by-step towards producing their own dialogues or written texts. There are also more speaking opportunities throughout each unit to build students' confidence. Finally on-page features such as Key Phrases, Language Points and Study Strategies offer further student support and encourage independent learning.

The right level of challenge for every student

English Plus is a flexible course that can be used in streamed school systems, mixed-ability classes, and with varying teaching loads. With this edition teachers can choose the most appropriate material for their class and for individual students. Fast finisher activities in the Student's Book will keep your faster learners motivated. In the Workbook, activities are graded so that students can practise at the right level for them. Photocopiable worksheets and tests on the Teacher's Resource Disk are also graded so that you can easily create differentiated learning paths. The Options lessons at the back of the Student's Book allow you to extend the material further and adapt the course to your students' interests and needs. Choose from Extra Listening & Speaking, Curriculum Extra, Culture, Project, and new Song pages.
The
English Plus
Practice Kit provides supplementary online skills and language practice.
Content aligned to CEFR levels, giving your students carefully graded extra practice without repeating what they have already done in class
Extra video documentaries, vox pops, and animations to motivate your students
Systematic skills development, as well as language practice and extension, all suitable for self-study
Automatically marked with instant feedback, and progress tracked in the gradebook to save you time
How to get started teaching with the online practice or homework for your course
Take a look at our short tutorial videos, webinar recordings, and guides to help you get started, manage your account, and use the learning management tools.
Go to
www.oup.com/elt/teachonline

The perfect Secondary course for mixed ability classes.