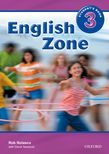 Hello
You can visit our worldwide website for our globally available teaching resources, or visit our local website for for products, events and materials for your area.
Please choose below:
Great storylines with lively dialogues.
Simple, clear grammar presentations and lots of practice.
Interesting Culture sections and student projects.
Songs, games, and puzzles.
Regular recycling.
Special guide for teachers of dyslexic students.
English Zone makes learning English simple. It uses a step-by-step approach to help students build a clear knowledge of grammar and a solid vocabulary base, then activates students' knowledge through skills work and functional dialogues.
For English Zone 3
(1)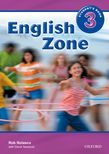 Student's Book
978-0-19-461814-4
An easy-to-teach course for pupils aged 10-14.