Fusion Level 3 Teacher Resource Center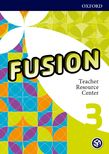 Fusion Level 3 Teacher Resource Center
A fresh new six-level course, offering a student-centred and integrated skills methodology to prepare students for the real world.
With Fusion, you can teach your students the language and skills they need for the real world today.

The integrated skills approach means language is introduced and skills are practiced through authentic, real world contexts. Each unit ensures students' cultural awareness and 21st century skills are being developed alongside their English, meaning you can be sure your students will be equipped for life beyond the classroom.

The Teacher Resource Center has everything you need to make the most out of Fusion in one place. The extensive range of testing materials allows you to check your students' level all year round, and extra practice worksheets will save hours of preparation time.
Exam support is provided through supplementary materials that can be adapted for any teaching situation, class size or ability.
Includes a helpful introduction to explain the course content.
Provides diagnostic tests, unit tests and end-of-year tests in PDF and editable formats.
Saves you time by providing extra practice worksheets, answer keys and video scripts.
Includes all audio required for speaking and listening tasks.
How do you get students to engage with English? How do you ensure that you are also expanding their world knowledge, and equipping them with the language they need for the real world today?

Fusion Level 3 uses an integrated skills approach, so language is introduced and skills are practiced through authentic, real-world contexts.

'Language in Action' activation tasks in every lesson provide topic-based opportunities for freer use of language, encouraging personalisation and productive skills.

'21st century skills' pages appear in every unit, so you can teach them with ease, and ensure your students are ready to succeed beyond the classroom.

'Around the world' sections develop students' geographical and cultural awareness, and 'Curriculum extra' pages provide CLIL content for each unit.

Fusion also offers a blend of print and digital content. Students have the opportunity to practice English both online and offline, and you can engage students through video and extra practice activities with the Classroom Presentation Tool.