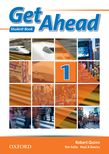 Hello
You can visit our worldwide website for our globally available teaching resources, or visit our local website for for products, events and materials for your area.
Please choose below:
Robert Quinn, Sylvia Wheeldon, Tim Falla, Paul A Davies
Activate your English with Get Ahead. This 3-level course combines a focus on grammar and vocabulary with a structured approach to learning functional language for successful communication.
Language Level: A1 – B1 (Level 1 A1, Level 2 A1-A2, Level 3 A2-B1)
Get Ahead is a brand new 3-level secondary course that focuses on developing all 4 language skills.

Its communicative approach to language learning will get your students talking. Students are first provided with vocabulary and grammar input, and then they have the opportunity to activate this learning through communicative activities.

The carefully chosen Asia-specific content will get your students thinking. Topics in Get Ahead relate directly to your students' lives and students will also become aware of other cultures and learn about global issues.

Get Ahead is a flexible resource that will adapt to the specific needs of your class. With a creative Teacher's Guide, and a Teacher's Resource Disc packed full of worksheets, customizable tests, audio scripts and wordlists, Get Ahead will help every student to communicate successfully.
Student Book
Workbook
Teachers Guide with Teacher's Resource Disc
iTools
Audio CD and full audio also available from www.oup.com/elt/getahead
Asia-specific content relates closely to students' world
A communicative approach to grammar and vocabulary learning
'Try it Out' activity on every page gets students talking in every lesson
Bite-size and manageable texts build up language confidence
Structured and easy-to-follow units
Topics focus on global values and social responsibility rather than popular culture
The communicative activities encourage group and pair work
The wealth of extra material provides flexibility for different teaching contexts
Inspire your students to speak English with a communicative course that relates to the world they know.

As a teacher, it can be difficult to encourage your students to communicate in English. Do you find that students are unwilling to communicate using the grammar and vocabulary they are learning? Are they uninspired by topics that have nothing to do with their daily lives? Get Ahead can change this. Get Ahead is a brand new 3-level secondary course created specifically with Asia in mind. With a focus on developing effective communication skills and carefully chosen Asia-specific content, students are motivated to activate their English.

The course has a structured approach to vocabulary and grammar learning. Each double-page comprises a page of language learning input followed by an output page to activate the language. This structure enables students to build knowledge and confidence and then to put their learning into practice in a communicative context. Every page includes a 'Try it Out' activity to ensure that language is activated, practised and spoken by the learner.

Get Ahead does not only focus on spoken communication. It takes a 4-skills approach that also allows students to build up confidence in listening, reading and writing. Each unit in the Student Book follows the same structure to develop key skills.

Students learn more effectively when topics are familiar to them. Your students will find the topics in Get Ahead interesting, motivating and relevant. Units such as 'free time', 'school subjects' and 'jobs' relate language directly to students' daily lives and experiences to motivate learning. The topics have also been chosen to be thought provoking. Students are encouraged to develop critical thinking skills by learning about other cultures and global values and in turn relating this learning to their own experiences.

Every English class is different and Get Ahead is designed to be flexible. It can be used in a variety of different classes, includes activities for different levels of students, and is adaptable to suit the number of classroom hours you have available. For example, the Teacher's Guide includes many new and creative ideas for extra practice and tips to adapt the material for stronger and weaker students. The Teacher's Resource Disc contains a variety of supplementary worksheets at two different levels.

Assessment forms a key part of learning and Get Ahead provides an extensive range of test materials for you to use. The Teacher's Resource Disc includes Exam preparation tests designed to develop students' exam techniques and build confidence to ensure successful outcomes.