Got it! Plus Level 3 Student Pack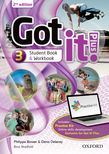 Got it! Plus Level 3 Student Pack
Get it all with Got it! 2nd edition!
Second Edition
| | |
| --- | --- |
| Format: | Mixed media format |
With an emphasis on meaningful communication and skills development, Got it! Second Edition builds students' confidence to communicate in English.
Got it! Second Edition retains the tried and tested formula of the first edition with 100% new content. Language is presented in context at the start of every unit in a photo-story in the lower levels and in an interesting, teen-appropriate text in higher levels. The guided discovery approach to grammar encourages students to reflect on the language they are learning and supports autonomous learning.
This pack includes:
Student Book & Workbook
Access to the Practice Kit
Extensive Online Skills Practice develops students' language skills and provides instant feedback.
Language is presented in context in either a photo-story or interesting text that will engage teen learners.
A new, improved skills syllabus with a new Writing Bank and more listening opportunities builds students' confidence.
A guided discovery approach to grammar encourages students to think.
Interactive grammar presentations provide an effective and fun way to present new grammar.
New online progress tests, practice questions for a range of international exams, and self-assessment pages ensure all your students can progress with confidence.
The online Gradebook lets you assign, track and monitor your students' progress.
New video material to engage and motivate teens
Got it! Second Edition offers teachers greater flexibility with plenty of optional extra resources and digital tools, including new interactive grammar presentations and more than 50 printable worksheets in the Got it! Plus Practice Kit to provide support and challenge; activities and videos that fill the screen in the Classroom Presentation Tool; and the opportunity to try out online homework.

A new, improved skills syllabus provides all the support your students need to develop their skills, including: a dedicated 'Skills' page in every unit with 'My Skills' boxes to practice useful strategies; new guided writing tasks in every unit; 'Extra communication' pages which offer further listening practice and extra functional vocabulary; and a Writing Builder lesson for each unit which covers a range of useful writing rules from using punctuation correctly to organizing ideas in a piece of writing.
How to get started teaching with the online practice or homework for your course.
Take a look at our short tutorial videos, webinar recordings, and guides to help you get started, manage your account, and use the learning management tools.
Go to
www.oup.com/elt/teachonline

The Got it! Practice Kit is accessed via a card at the back of the Student Book. It includes:

Extension of all 4 skills - new reading texts, extension listening activities, speaking activities and guided writing tasks.
Extra video - interviews with American teens and accompanying activities.
Language Review - 2 review activities every 2 units.
Online practice test - KET for Schools at Level 2 and PET for Schools at Level 3.
Learning Management System - to help assign students to classes, set and monitor homework, select 'test' or 'practice' mode as preferred.

With the Got it! Practice Kit, students' work is marked automatically, or submitted to the teacher for grading. It saves time, provides instant feedback, and helps students maintain motivation.