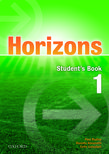 Hello
You can visit our worldwide website for our globally available teaching resources, or visit our local website for for products, events and materials for your area.
Please choose below:
Paul Radley, Daniela Simons, and Colin Campbell
A four-level secondary course that sets achievable goals.
Language Level: 4 Levels: False Beginner to Intermediate
Multiple entry points cater for different teaching situations.
Optional Starter unit for real beginners (level 1) or mixed classes (all levels) to revise basics.
Horizons can be completed in a typical school-year.
Grammar is presented in the context of dialogues, and practised systematically.
Training for pre-intermediate and intermediate level exams.
Optional lessons with extra language practice.
Cultural sections focusing on various aspects of life in different countries.
Horizons is for secondary school students aged 14-19, and builds confidence in communication by providing clear structures and models.
Horizons includes: