insight Advanced Workbook e-book 2019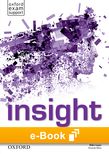 Price:
GBP 15.39
+ Sales Tax
insight Advanced Workbook e-book 2019
Insight Workbooks are now available as e-books, with interactive features designed specifically for language learners.
ISBN:

978-0-19-406281-7

Price: GBP 15.39 + Sales Tax
Insight first edition Workbook e-book offers all the content from the Workbook with extra features to support learning. Includes integrated audio for listening and pronunciation practice.
Improve pronunciation: Students can repeat audio, record themselves and compare to original
Improve listening: Integrated audio which students can slow down to hear each word clearly
Personalise the e-book: Students can save written or spoken notes anywhere on the page and use the pen tool to draw and highlight
Easy to get around: Using bookmarks, jump to page, and thumbnail sorter
Access the e-book on a tablet or online on a computer. Work is synced between devices
Includes the grammar reference and practice pages
The licence period for this product is perpetual.
The use of this product is subject to the Oxford Learners Bookshelf
terms and conditions
.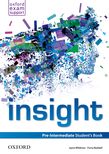 insight is a five-level secondary British English course that will challenge, develop and inspire your students, as well as equip them with the skills they need for lifelong learning.