insight Elementary Teacher's Book with Teacher's Resource Disk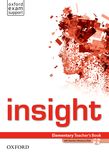 insight Elementary Teacher's Book with Teacher's Resource Disk
| | |
| --- | --- |
| Format: | Mixed media format |
The insight Teacher's Book and Resource Disk pack provides everything you need to tailoring your lessons to perfectly fit your students' needs.
The Teacher's Book includes in-depth teaching notes with additional cultural and language information for full classroom support, as well as extra activities that allow flexibility in your lessons. The Teacher's Book also includes the answer keys and audio scripts for the material found in the Student's Book.

The accompanying Teacher's Resource Disk provides a wealth of additional resources to support your lesson content. This includes additional communication worksheets to practice key language from the Student's Book, documentary video clips with worksheets and lesson guides, a functional language bank of key communicative phrases and a writing bank of key writing formats used in the course. The Disk also includes suggestions for classroom activities such as teaching creative writing, involving technology-expert students and using video.
Teaching notes and answer keys for every lesson in the Student's Book
Ideas for optional extra activities for greater flexibility
Includes background notes, cultural information and language notes
Suggestions for teaching further vocabulary from reading texts and questions for discussions
Scripts for the audio clips
Accompanying Teacher's Resource Disk includes all the video clips, supporting worksheets, additional projects to encourage collaborative learning, How to guides and much more
The Teacher's Book and Teacher's Resource Disk provide ready-made extra resources which match the topics and language covered in the Student's Book.

Whether you need ideas to support your weaker students, ways to stretch your stronger students or just simply more activities for the whole class, the Teacher's Book and Teacher's Resource Disk have everything you need.

The video material on the Teacher's Resource Disk is linked to the material in the Student's Book and has accompanying worksheets and lesson guides to ensure that your students get the most out of the footage.

Additional pair and group work photocopiable resources practise key language from the Student's Book and can be used as extension material.

Useful culture and language notes are also provided, to give you background information on the points covered in the Student's Book and extra discussion questions that you can use.

"We wish we had had a course like this years ago!" Maeike Kiers, the Netherlands

"Insight is a truly innovative and comprehensive course book tailored to the needs of today's students and teachers." Gordana Nikoli?, Croatia

"This is the textbook I really enjoy teaching from." Jana Bodláková, Czech Republic

"The best course I have ever worked with!" Rita Rudaitiene, Lithuania

"I love working with the book." Maria Teresa Medeiros, Portugal

"I do enjoy teaching with Insight. It's extremely rich, varied and thought provoking!" Charles Rohrbasser, Switzerland