insight Elementary Workbook with Online Practice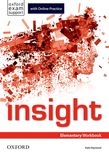 insight Elementary Workbook with Online Practice
| | |
| --- | --- |
| Format: | Mixed media format |
The insight Workbook with Online Practice is an essential accompaniment to the Student's Book. The Online Practice material further extends the exercises found in the Workbook and also includes interactive exercises, video clips, automatic marketing and additional practice of key vocabulary and grammar.
The insight Workbook supports the lessons in the Student's Book with extra exercises for every lesson, a unit-by-unit wordlist with dictionary-style definitions, and a grammar reference and practice section which is linked to the grammar lessons in the Student's book.

The Workbook also contains optional extra lessons and activities in the form of the Literature insight bank which contains a series of lessons which will introduce your students to classic pieces of English Literature. The Exam insight sections offer preparation and practice for school leaving exams. The Workbook also contains a twenty page grammar and reference section that contains comprehensive grammar explanations and further practice.

The inclusion of Online Practice with the Workbook allows students to access additional homework activities that are automatically marked and can be easily tracked online so you spend less time marking. Integrated video and audio, unlimited practice on activities and the ability to check the correct answers will enhance your students' independent learning.
The Workbook closely matches the Student's Book layout
Listening tracks available to download from the insight Student's site
Literature insight offers additional lesson material to introduce students to classic pieces of English literature
The Grammar Reference sections provide sxtra support and practice of the grammar from the Student's Book
A unit-by-unit wordlist with dictionary style definitions gives students more information about core vocabulary
The Online Practice option allows you to assign homework to be done online, and track your students' progress
Over 200 activities for students to practise vocabulary, grammar and skills, with new audio for the listening tasks
Speak and record practice and writing tasks that students submit to teacher give more opportunities to practise these important skills away from the classroom
Video, audio, wordlists, language bank and grammar references are all integrated with the activities so everything is easily accessible and in one place
Instant feedback on answers and unlimited attempts on activities encourages autonomous learning
The access code for Online Practice is on a card provided with the Workbook
For every page in the Student's Book there is a corresponding page in the Workbook full of extra practice of the language covered in the lesson.

The Literature Insight section is made up of a set of supplementary literature lessons which introduce students to classic pieces of English Literature such as Hard Times, Alice in Wonderland and Huckleberry Finn.

The literature lessons include a reading text taken from an OUP Graded Reader ensuring they are pitched at the right level for your students. There is also an audio clip from reading text, background information about the author and information about the context in which they were writing, as well as comprehension and critical thinking exercises to test students' understanding.

The twenty-page Grammar Reference section of the Workbook includes explanations of the grammar covered in the Student's Book with extra practice exercises. Perfect support material for a student who is struggling with a particular grammar point or handy for revision ahead of a test or exam.

Online practice

Assign the Online Practice material as homework and take advantage of the extra features to track students' progress, communicate with students outside of class, and improve learning outcomes.

Set writing and speaking practice that you can mark and give one-to-one feedback on outside the classroom to free up teaching time.

The automatic marking facility encourages students to independently review their learning. They know immediately whether they have the right answers and can practise an activity as many times as they need, learning from their mistakes.

The Online Gradebook keeps you up to date with students' learning, making it easy for you to track and report on progress, and letting you quickly identify strengths and weaknesses within a class. This helps with planning for mixed-ability classes, enabling you to create differentiated learning paths for groups of students.

The Online Practice access code comes on a special card with the Workbook with instructions for students on how to access the content.
How to get started teaching with the online practice or homework for your course
Take a look at our short tutorial videos, webinar recordings, and guides to help you get started, manage your account, and use the learning management tools.
Go to
www.oup.com/elt/teachonline