insight Upper-Intermediate Student's Book
insight Upper-Intermediate Student's Book
The insight Student's Book is packed full of thought-provoking topics and information-rich texts that will challenge your students' opinions, educate them about the world they live in, and inspire discussion.
ISBN:

978-0-19-401109-9

Pages:

144

Binding: Paperback
Dimensions: 297x210 mm
The insight Student's Book is a core component of the course, providing everything your students need to engage with their language learning in the classroom.

The interesting and thought-provoking topics in the Student's Book are based on actual facts and real-life events that students can find out more about at home.

The lively and attractive design combined with cutting edge content and integrated video and audio material will appeal to digital, media aware and tech-savvy teenagers.

Vocabulary is widely explored through the coherent and systematic vocabulary syllabus, the Vocabulary insight pages, and the ten-page Vocabulary bank.

Strategy boxes in every unit help students gradually develop their skills by working on specific aspects of grammar and vocabulary in each unit, e.g. identifying paraphrase, taking notes, and writing opening sentences.
Ten topic based units divided into five clear sections (A-E) that logically follow on from one another
Sections A-E within each unit are: Reading and Vocabulary, Grammar and Listening, Listening, Speaking and Vocabulary, Culture, Vocabulary and Grammar, Writing
Vocabulary insight pages at the end of every unit develop a deeper awareness of how language works and build students' dictionary skills
Every unit includes a writing strategy and either a listening or reading strategy that develop students' skills and help them become more confident and autonomous learners. Strategies are practiced through a number of activities, so students can immediately apply the skills they have learnt
Unit Reviews appear in every unit and test all the grammar and vocabulary points covered during the unit
Each level of the Student's Book contains five Cumulative Reviews (found after every two units) which review all the language taught up to that point through a series of skills-based activities
Ten page Vocabulary bank section with twenty additional topic-based vocabulary sets
Plenty of speaking practice in lessons which encourage students to express their own ideas and reflect on the topics they are learning about
Writing Guide in every unit supports students through the process of planning, writing and checking their own work
Culture pages in every unit and related video available on DVD, the Classroom Presentation Tool or the Workbook with Online Practice and the Online Workbook Plus will broaden your students' understanding and knowledge of the customs, traditions, and history of English-speaking countries
There are ten units in the Student's Book. Each unit is divided into five sections (A-E), with a Vocabulary insight page and a Review. After every two units, there is a Cumulative review. At the back of the book, there is a ten-page Vocabulary bank.

Lesson A: Reading and vocabulary

Every unit begins with a Reading and Vocabulary lesson which introduces the topic of the unit in an information-rich text. The reading text also contextualizes two vocabulary sets which are recycled through the rest of the unit. One of these is a Vocabulary insight ( V insight) set which explores language in greater depth. These lessons always begin with a speaking task which gets students thinking about the topic of the unit and expressing their own ideas. At the end of the lesson another speaking task allows students to react to the text and demonstrate their understanding of the issues raised.

Lesson B: Grammar and listening

Lesson B picks up on the grammatical structures that students met, but may not have recognized in the reading text in section A. the guided discovery approach to grammar ensures that students actively engage with the new language. Students analyse examples, complete rules or answer questions about the grammar which helps them to focus on the new structures, their meaning and use. A final speaking activity allows students to use the new language in a personalized and productive way.

Lesson C: Listening, speaking and vocabulary

Lesson C offers students opportunities to practise the grammar and vocabulary from the previous sections. Listening activities contexualize a new vocabulary set which is recycled through the rest of the unit. Students are encouraged to react to the topic of the listening and exchange ideas and opinions. This lesson also presents functional language through several model dialogues, as well as controlled and free practice.

Lesson D: Culture, vocabulary and grammar

Lesson D introduces students to the culture of the English-speaking world through a text on the customs, traditions and history of English-speaking countries. There is always a cultural comparison element, which encourages students to think about similarities and differences with their own culture.

Lesson E: Writing

section E always presents a model text which students analyze for the language, structure and
format used. There is a always a writing strategy box on these pages which develops key elements of the writing process, for example, planning, brainstorming, deciding on register, etc. These pages also include a step-by-step writing guide which takes students through the process of generating ideas, planning, writing and checking their work. The writing task lets students use the language taught throughout the unit in a personalized, productive and creative way.

Vocabulary insight

This page raises awareness of how language works by developing a deeper understanding of a language point introduced earlier in the unit. There are also activities which build students' study skills, including ways of recording vocabulary, using a dictionary or a thesaurus. Through a series of strategies students learn how to use reference sources that can help them with their learning now and in their future life.

Review

The review gives students another opportunity to recycle and check how well they know the vocabulary and grammar they have learned in the unit. Students get marks for every completed review, so it is easy to monitor progress through the book.

Cumulative review

There is a two-page cumulative review at the end of every two units. This reviews key language and skills from the Student's Book up to that point through a series of skills-based tasks. Each Cumulative review includes listening, speaking, reading, use of English and writing exercises.

Vocabulary bank

There are two cross-references to the Vocabulary bank from each unit. Each Vocabulary bank presents and practises two vocabulary sets that are topically related to the unit.

"The visuals in the vocabulary bank help many students to memorize the key vocabulary more easily." Marijana Ivica, Croatia

"Vocabulary insight pages give my students a better understanding about English vocabulary. They learn how words function in the language, and how it is necessary to look at the meanings in context instead of just taking the first meaning." Rita Rudaitiene, Lithuania

"Apart from learning English, students become aware of the world around them. The topics are introduced through interesting, unconventional stories, which my students often find surprising and intriguing. They are, therefore, always a good basis for heated discussions in the classroom." Gordana Nikolic, Croatia

"The best thing about insight is that there are plenty of small speaking exercises in which students are encouraged to use the same vocabulary again." Maeike Kiers, the Netherlands

"The topics in insight focus on realities that teenagers can easily connect with... As a consequence, students not only develop their language skills but also their communication skills because they participate more enthusiastically in discussions." Deolinda Araújo, Portugal

"I do enjoy teaching with Insight. It's extremely rich, varied and thought provoking!" Charles Rohrbasser, Switzerland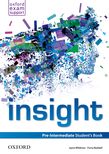 insight is a five-level secondary British English course that will challenge, develop and inspire your students, as well as equip them with the skills they need for lifelong learning.