Life Vision Advanced Teacher's Guide with Digital Pack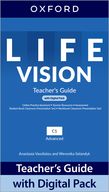 Life Vision Advanced Teacher's Guide with Digital Pack
Print Teacher's Guide and 4 years' access to Classroom Presentation Tools, Online Practice, Teacher Resources, and Assessment.
New

| | |
| --- | --- |
| Format: | Mixed media format |
Life Vision helps students gain the language and skills they need to work out where they want to go next, and how exam success will help them take advantage of the global opportunities that proficiency in English brings.
Teach. Practice. Track. Assess. The Teacher's Guide with Digital Pack give you everything you need to create flexible lessons that work for your students.

Life Vision includes an Assessment for Learning approach in the teaching notes, workbook review lessons and tests to enable teachers to give informal assessment and effective feedback, and to help learners to analyse and accelerate their progress.

Professional Development support helps you get started with Life Vision. Watch video tutorials to set up your course, access focus and position papers for expert advice and bite sized guidance on key issues and take short professional development modules for an introduction to key methodologies for your course.

All your digital course materials and resources are accessed via the Oxford English Hub - a launchpad for learning: www.oxfordenglishhub.com .
This pack includes:
Teacher's Guide (print)
Classroom Presentation Tools (Student Book and Workbook - 4 years' access)
Online Practice (Teachers - 4 years' access), Teacher Resources (4 years' access)
Assessment (4 years' access)
Rich video features including vlogs, documentaries and grammar animations are ideally suited to meeting today's digital natives on their level.
Vision 360° lessons transport students to real-world environments to develop digital literacy skills and learning autonomy through research and collaborative project work.
Syllabus based on the Oxford English Learning Framework, a set of tools aligned to the CEFR.
Vocabulary Boosters, Grammar Booster, and Grammar Reference sections enable students to practise the language and communication skills they need to communicate in an English-speaking environment today.
Global skills lessons equip students with invaluable strategies to become successful global citizens.
Robust exam skills practice and strategies support exam success.
Mediation activities throughout the course help students become proactive users of English and clearly convey information to others.
Syllabus based on OxELF, a set of tools aligned to the CEFR.
Your Life: Empower students to become responsible and successful global citizens.
Global skills lessons in every unit equip students with invaluable strategies to become successful global citizens. Topics such as successful teamwork, solving problems, cultural awareness, staying healthy and online safety provide opportunities for students to learn critical skills for lifelong learning and success.
Mediation activities are designed to help students develop a range of key language skills to clearly convey information to others, such as interpreting and summarising.
Think and Share activities encourage students to think analytically, justify their answers, and challenge other opinions.
Your Motivation: Expand teenagers' horizons by bringing the outside world in to your classroom.
Explore the world with 360° Interactive images. Transport students to a real-world environment to develop digital literacy skills and put English into practice beyond the classroom.
Three or four videos per unit (vlogs, documentaries and grammar animations) instantly engage students with the unit topic and language and reflect the way today's teenagers share experiences, thoughts and information.
Topics are 'googlable', introducing learners to real issues that they want to find out more about.
The vocabulary syllabus is based on the Oxford 3000™ and Oxford 5000™. This enables learners to focus on the most useful words to know at each CEFR level and acquire strategies for using them
Online Practice motivates students to develop the language and skills they have learnt in each unit of the Student Book, and practise at home with interactive activities. Students can also download or stream all course audio and video, wherever they are.
Your Success: Prepare students for lifelong success and fulfilment in today's dynamic, fast-evolving world.
Helps students become better speakers, listeners, readers and writers with a carefully-levelled and consistent grammar and vocabulary syllabus aligned to the CEFR, preparing them for success now and in the future. A clear mixed-ability focus ensures that each student has an appropriate level of support and challenge.
Exam preparation builds on the success of Solutions with exam-style exercises throughout the course , focused exam skills lessons, and tests to give students the skills and strategies to tackle not only the next exam, but future exams, with confidence.
Assessment for Learning: Help learners to continually understand, track progress and improve their skills with a set of tests, tools and guidance at each stage of the learning journey.