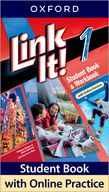 Hello
You can visit our worldwide website for our globally available teaching resources, or visit our local website for for products, events and materials for your area.
Please choose below:
Link It! Level 1
Linking your world together
Christina de la Mare
Link your world together with Link It!

Every level develops your students' communication competences and provides integrated support for Cambridge exams. With its well-rounded approach, Link It! creates confident communicators ready to achieve success.
Part of: Link It!
Language Level: Elementary
Link It! is a six-level course connecting students with the grammar, vocabulary, language, and skills they need to communicate with confidence and succeed in English.
Student Pack
Student Pack A
Student Pack B
Teacher's Pack
Dedicated 'Let's Talk About…' lessons build communication competences and teach students to communicate in English with confidence.
The assessment package prepares students for a successful future with integrated exam support.
Global skills activities encourage critical thinking and prepare students for the real world.
Inclusive resources cater for all learning styles and help every student succeed. Includes specially adapted tests, mind maps and worksheets for students with dyslexia.
A variety of videos model real English in use. Let's talk about… videos demonstrate functional language, Culture videos widen students' perspectives. Vlogs and Video Link sections feature teenagers in relatable scenarios.
The Classroom Presentation Tool allows teachers to easily run more engaging, interactive lessons.
Create confident communicators
Build communication competences with 'Let's talk about…' lessons and videos that model real English.
Culture videos widen students' perspectives. Vlogs and Video Link sections feature teenagers in relatable scenarios.
Practice Kit extends language skills at home.
Support every student
Cater to all learning styles with inclusive resources informed by the Oxford Expert Panel's latest research on Inclusive Practices in English Language Teaching.
Teach mixed-ability classes with flexible step-by-step lessons and extra workbook activities.
Specially designed worksheets, mindmaps, and tests offer tailored support for students with dyslexia.
Prepare students for a successful future
Integrated exam support provides core skills practice and familiarises the student with the structure of Cambridge English exams.
Build global skills with activities that encourage collaboration and critical thinking.
A comprehensive assessment package provides regular review tests and exam practice.