Link It! Level 5 Student Pack e-book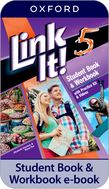 Link It! Level 5 Student Pack e-book
Third Edition
Link your world together with Link It!

Every level develops your students' communication competences and provides integrated support for Cambridge exams. With its well-rounded approach, Link It! creates confident communicators ready to achieve success.
The Student Pack e-book comes to life with extra digital features to engage students and enhance their learning experience including audio and interactive activities with automatic marking. Students can study anytime, anywhere.
Boost your students' motivation to study - the Student Pack e-book comes to life with extra digital features to engage students and enhance their learning experience: watch video straight from the page and complete interactive activities with automated marking; listen to audio for authentic listening practice, slow it down for improved comprehension, and voice record to practice speaking and pronunciation; add notes, use the pen and highlighter tool to annotate the page, and save voice recordings; easily navigate using bookmarks, jump to page, and the search tool
Encourage your students to study anytime, anywhere - ready to go activities for inside or outside the classroom, accessible on any device, both online and offline.
Connect your students to a world-famous dictionary - quickly look up the definitions of words and phrases from the Oxford Learner's Dictionaries with helpful pronunciation guidance, at the right level.
Create confident communicators
Build communication competences with 'Let's talk about…' lessons and videos that model real English.
Culture videos widen students' perspectives. Vlogs and Video Link sections feature teenagers in relatable scenarios.
Practice Kit extends language skills at home.
Support every student
Cater to all learning styles with inclusive resources informed by the Oxford Expert Panel's latest research on Inclusive Practices in English Language Teaching.
Teach mixed-ability classes with flexible step-by-step lessons and extra workbook activities.
Specially designed worksheets, mindmaps, and tests offer tailored support for students with dyslexia.
Prepare students for a successful future
Integrated exam support provides core skills practice and familiarises the student with the structure of Cambridge English exams.
Build global skills with activities that encourage collaboration and critical thinking.
A comprehensive assessment package provides regular review tests and exam practice.