Metro Starter Teacher's Pack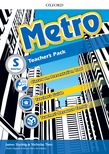 Metro Starter Teacher's Pack
Where will Metro take you?
Nicholas Tims and James Styring
| | |
| --- | --- |
| Format: | Mixed media format |
An exciting new secondary course that reflects the lives of teenagers today and takes students on the next step of their learning journey to become confident, independent learners.
The Metro Teacher's Guide provides all of the instructions and directions teachers need to conduct successful lessons with the course.

For each lesson, the book outlines a clear aim and provides step by step instructions as for how to achieve it. There are also extra practice activities for the whole class, and extra activities for weaker and stronger classes, so that Metro can fit into any classroom.

Also included in this pack is the Classroom Presentation Tool, which shows the Student Book and Workbook on screen with embedded video and audio, as well as additional interactive activities.
This pack includes:
Classroom Presentation Tool
Teacher's Guide
Teacher's Access Code
Online Homework
Teacher's Guide outlines a clear aim for each lesson and step by step instructions for achieving it
Extra practice activities for the whole class, for weaker classes, and for stronger classes, ensure that Metro can fit into any classroom
Video lessons are fully supported with instructions on how best to conduct each stage of the lesson
Access to Online Homework allows teachers to track their students' progress
Classroom Presentation Tool shows the Student Book and Workbook on screen with embedded video and audio, and additional interactive activities
Created to reflect the lives of teenagers today, the topics in Metro have been chosen to spark students' natural curiosity and delivery takes into account how teenagers like to learn about the world around them. Each unit contains two graded videos presented by a group of relatable teen friends, who make learning accessible and fun.

Informed by the latest pedagogy, the course offers just the right amount of challenge and encourages students to think critically. Target language and grammar is first presented in context, encouraging students to reflect on meaning and interpretation, and 'Good readers' and 'Good writers' tips equip students with strategies to instantly improve their performance.

The course's broad range of resources and digital components are perfect companions for busy teachers. The Classroom Presentation Tool makes it easy to deliver heads-up lessons, and the Online Homework enables teachers to easily assign and mark homework, and track students' progress.