Metro Starter Student Book and Workbook Pack e-book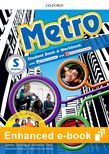 Metro Starter Student Book and Workbook Pack e-book
Where will Metro take you?
Nicholas Tims and James Styring
An exciting new secondary course that reflects the lives of teenagers today and helps to develop confident and independent learners.
The Metro e-books allow students to access all the content from the Student's Book and Workbook on their tablet or computer. Audio is built-in and can be accessed straight from the page, and annotation tools allow students to personalize their ebooks.

Available for iPad and tablets for Android via the Oxford Learner's Bookshelf app and online on a computer at www.oxfordlearnersbookshelf.com. Learners study online or on a tablet and their work syncs between devices.
Improve pronunciation: Students can repeat audio, record themselves and compare to original
Improve listening: Integrated audio which students can slow down to hear each word clearly
Personalise the e-book: Students can save written or spoken notes anywhere on the page and use the pen tool to draw and highlight
Easy to get around: Using bookmarks, jump to page, and thumbnail sorter
Access the e-book on a tablet or online on a computer: Work is synced between devices
Created to reflect the lives of teenagers today, the topics in Metro have been chosen to spark students' natural curiosity and delivery takes into account how teenagers like to learn about the world around them. Each unit contains two graded videos presented by a group of relatable teen friends, who make learning accessible and fun.

Informed by the latest pedagogy, the course offers just the right amount of challenge and encourages students to think critically. Target language and grammar is first presented in context, encouraging students to reflect on meaning and interpretation, and 'Good readers' and 'Good writers' tips equip students with strategies to instantly improve their performance.

The course's broad range of resources and digital components are perfect companions for busy teachers. The Classroom Presentation Tool makes it easy to deliver heads-up lessons, and the Online Homework enables teachers to easily assign and mark homework, and track students' progress.
The licence period for this product is perpetual.
The use of this product is subject to the Oxford Learners Bookshelf
terms and conditions
.