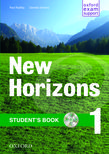 Hello
You can visit our worldwide website for our globally available teaching resources, or visit our local website for for products, events and materials for your area.
Please choose below:
Paul Radley and Daniela Simons
New Horizons is a four-level upper secondary course that sets achievable goals and builds confidence.
New Horizons includes 100% new content and updated exam training to prepare students for the B1 school-leaving exam.

A wide range of topics engage teenagers' interest and provide essential vocabulary. Practical grammar exercises then build students' confidence in communication.
Student's Book Pack
Workbook
Class Audio CD
iTools
Teacher's Book
Teacher's Tests CD
Brand-new features, fun activities and 100% rewritten texts and exercises
Clear structure and a moderate pace to suit classes with lower weekly contact hours, or mixed-ability classes
Dual entry points at levels 1 and 2 mean that students can work towards the B1 exam at their own pace
Updated and systematic exam training in levels 3 and 4 prepare students for the different requirements of their school-leaving exams
Language review at the end of every two units recycles and revises language as the course progresses