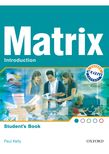 Hello
You can visit our worldwide website for our globally available teaching resources, or visit our local website for for products, events and materials for your area.
Please choose below:
New Matrix Introduction
Kathy Gude, Jayne Wildman, and Michael Duckworth
The new and improved edition of the challenging secondary course that prepares students for school-leaving exams.
Part of: New Matrix
Language Level: Elementary (A1)
New Matrix maximizes performance in the school-leaving exam through demanding material and a focus on exam tasks and techniques.

The new edition has been updated through direct feedback from Matrix users, to include revised texts, a vocabulary lesson in every unit, and more focused exam practice.
Student's Book
Teacher's Book
Workbook
Class Audio CDs
Class Cassettes
Popular features improved and updated in response to feedback from Matrix users
Systematic building of key vocabulary to cover up-to-date exam topics
Effective production: speaking practice in every lesson on a wide range of topics, and step-by-step guidance for writing
More focused grammar practice
Increased culture sections
Exam tips, techniques, and practice to give students confidence in the exam
New Matrix is now a five-level series with a new entry level: Matrix Introduction (lower elementary), and Matrix Foundation.

New Matrix still offers the same level of challenge to bring the best out in students through thought-provoking and intelligent topics, authentic texts, and systematic exam training. Regular revision and recycling throughout the course is still a key feature of this new edition. As well as a greater focus on vocabulary, grammar, and culture in the Student's Book, there are also changes to the other components of the course.

The Teacher's Book now includes revised teaching notes with more optional activity ideas, and culture and language notes. There is also an extended photocopiable section with communication activities, games, testing tasks, and reading texts.

The extensive Workbook now offers more practice and more exercises. The new exam training bank also has intensive exam practice in the Pre-Intermediate, Intermediate, and Upper-Intermediate levels.