Oxford Discover Futures Level 1 Workbook e-book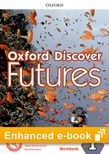 Price:
GBP 13.74
+ Sales Tax
Oxford Discover Futures Level 1 Workbook e-book
Ben Wetz
Oxford Discover Futures empowers students to shape their futures with an inquiry-based approach and a focus on 21st Century Skills.
ISBN:

978-0-19-411377-9

Price: GBP 13.74 + Sales Tax
Licence Length:

24 months
The Workbook e-book allows students to access all the content from the Workbook on their tablet or computer. Students can complete activities on the page, make notes, record themselves, and play the audio in context.

Inquiry-based methodology equips learners with 21st Century Skills in critical thinking, communication, collaboration and creativity.
Additional activities for every Student Book unit extend learning.
Self-assessment activities at the end of each unit to reflect on language and strategies.
Exam preparation spreads feature exam strategies and tasks to support success in any international exam.
Students are able to play audio directly from the pages.
Students can write notes, highlight and draw on the page.
Available for both iPad or Android tablets or online from a computer via the Oxford Learner's Bookshelf.
How do you motivate your students to engage and participate in language learning? How do you equip them with the skills they need for future success?
Oxford Discover Futures
is a six-level course, created to address the evolving needs of secondary-level learners of English in the 21st century. Second language acquisition is now much more than an academic pursuit. It has become an essential skill for global cooperation and problem solving.
Oxford Discover Futures
is centered on the belief that language and literacy skills are best taught within a framework of critical thinking and global awareness, and it aims to guide students toward the broader goals of communication.
Oxford Discover Futures
creates a positive and motivating learning environment by:
Providing content that is relevant, informative, and educational.
Allowing students to consider key questions and to reflect on and reconsider their responses as they develop their understanding
Challenging students to think critically about topics, issues, and questions.
Fostering competence in reading and writing.
Life skills lessons which develop transferable skills for lifelong learning.
Developing strategies that help students perform well in academic study and examinations.
Lifelong Learning with the Oxford Discover Family
Oxford Discover Futures
belongs to a family of Oxford courses which share the same inquiry-based methodology, with a focus on 21st Century Skills. It follows on from
Show and Tell
and
Oxford Discover
. These courses offer schools a continuous inquiry-based learning path, which evolves with students as they grow. Each course provides the right level of cognitive challenge to support lifelong learning and success.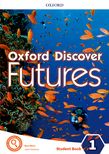 A six-level secondary course for teenagers, based on the tried and trusted inquiry-based methodology.