Project Explore Level 2 Student's e-Book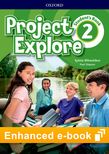 Project Explore Level 2 Student's e-Book
Explore Series je ucelená 9dílná série pro základní vzdělávání.
Student's e-Book allows students to access all the content from the Student's Book on their tablet or computer. Audio is built-in and can be accessed straight from the page. Students can control the speed of the audio, allowing them to listen at the speed that is right for them. The repeat, record and compare feature allows students to record their own speaking so that they can easily compare their pronunciation to the original audio. Built in tools like the pen, sticky notes and highlighter mean students can make notes and personalise their e-Book.

Available for iPad and tablets for Android via the Oxford Learner's Bookshelf app and online on a computer at www.oxfordlearnersbookshelf.com.

Institutions can buy access codes for their students. Find out more.
Improve pronunciation: Students can repeat audio, record themselves and compare to the original.
Improve listening: Integrated audio which students can slow down to hear each word clearly.
Personalise the e-book: Students can save written or spoken notes anywhere on the page and use the pen tool to draw and highlight.
Easy to get around: Using bookmarks, jump to page, and thumbnail sorter.
Spark students' curiosity
Discover 100% new texts, photo stories, cartoons and activities.
Delve into a new fictional world in stories by award-winning author Paul Shipton, which offer cumulative revision of the grammar and vocabulary after every two units.
A course you can rely on
Each lesson is underpinned by the familiar Project methodology.
Culture and Learn through English lessons provide optional extra material.
Revision pages in every unit help you to monitor students' progress.
Further ideas and activities in the Teacher's Guide provide extra support and challenge.
Prepare your students for the next step in their learning journey
Develop life skills with activities that encourage creativity, collaboration and communication.
Strong emphasis on learning to learn prepares students for the world beyond the classroom.
Supportive approach to Writing and Speaking helps all students to become capable communicators in English.
The licence period for this product is perpetual.
The use of this product is subject to the Oxford Learners Bookshelf
terms and conditions
.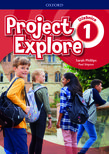 Česká edice pracovních sešitů i učebnic.