Hello
You can visit our worldwide website for our globally available teaching resources, or visit our local website for for products, events and materials for your area.
Please choose below:
Project 3
Project third edition encourages students to enjoy the process of learning, through updated content and a wealth of materials.

It motivates students with engaging texts, topics, and activities across all five levels. The logical structure and clear approach provide a solid base for learning, as the course presents real language in real contexts.

Expanded culture and revision sections in the new edition provide additional activities and practice for students, and further resources for teachers.
Student's Book
Teacher's Book
Workbook Pack
Audio
Project iTools
DVD
NEW texts, topics, and activities such as comics and stories
'English across the curriculum' page (CLIL) in every unit of every level
Culture DVD includes documentary-style material showing aspects of life in Britain and other English-speaking countries
Revision pages in every unit help to check the class' progress regularly
Workbook contains NEW 'can-do' statements which monitor your students' progress
Graded exercises in the Workbook and projects in the Student's Book to suit mixed-ability students
Now in its third edition, Project inspires a new generation of young learners. This means that its content is contemporary, but its structured approach to learning remains the same - and here's why:

Firstly, it meets teacher and student needs. Author Tom Hutchinson says, "A tremendous amount of research goes on behind the scenes... there's constant feedback from teachers who are using the course... lots of questionnaires sent out to teachers asking for their feedback... and I've also been out myself to observe a number of lessons in various countries". Thorough research means that the course addresses teacher and student needs in an extensive and effective way.

Secondly, students enjoy learning with Project. Comics introduce an element of fun into the classroom, and projects promote learner autonomy for students of all abilities. The material is interesting and appealing for students, making the teaching experience more enjoyable for you too.

Finally, pedagogy is at the heart of Project. Consistent vocabulary and grammar teaching encourages students to practise language in context. CLIL and Culture sections broaden your students' learning experience, as they use new-found language to explore a range of topics.
For Project 3
(4)

Student's Book
978-0-19-476310-3
Tried, tested, trusted ... and now even better!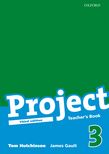 Teacher's Book
978-0-19-476312-7
Project third edition is a five-level primary and secondary English course, trus...

Class Audio CDs (2)
978-0-19-476314-1
Project third edition is a five-level primary and secondary English course, trus...