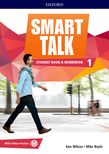 Hello
You can visit our worldwide website for our globally available teaching resources, or visit our local website for for products, events and materials for your area.
Please choose below:
Smart Talk Level 1
New edition
Ken Wilson and Mike Boyle
An easy-to-use, flexible course for older teens with a focus on understanding and communicating confidently in English.
Smart Talk's focus on social communication means that teachers can be sure that students gain the level of English they need for life beyond the classroom.

Effective lessons and achievable learning outcomes ensure students can use English with confidence. Teachers get flexible one-page lessons, making it easy to teach off the page, and to adapt lessons to suit the needs of your class.
Student Pack
Teacher's Pack
Simple, flexible one-page lessons allow teachers to adapt Smart Talk to the needs of their class.
Clear learning outcomes at the end of each unit build student confidence.
A focus on social communication gets students speaking everyday English.
Plenty of extra practice available online, as well as a discussion board and personalised student achievement page.
Extra teacher's resources including unit, mid-term and final tests and practice worksheets mean Smart Talk can work for any teacher.
Media Download Centre with Audio and Video downloads can be accessed by both students and teachers through the Online Practice.
This course gives you everything you need for smart teaching, smart learning and smart talking!

With the same simple formula in each lesson teachers can familiarise themselves quickly with the approach and teach straight off the page. No advance preparation is needed, but there is scope to adapt the lessons if required and plenty of ideas for extra activities in the Teacher's Guide.

Lessons move from language introduction, to controlled use, down to freer use of language at the bottom of the page, so each lesson is easy to follow, and gives students the tools they need to use English confidently.

Clear, simple learning outcomes at the end of every unit are presented in 'Now I can' boxes – encouraging students to self-assess their progress, and increase their confidence.

Smart Talk's communicative focus means conversation pages focus on getting students speaking everyday English. The conversation contextualises the unit vocabulary and introduces grammar in a meaningful setting, showing students how the langauge can be used in a real life setting.

Speaking pages at the end of every unit are all about fun, communicative exercises that strengthen students' fluency. Students are encouraged to continue researching the topic online, applying the unit topic to real-life scenarios and encouraging independent learning.
For Smart Talk Level 1
(3)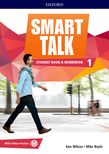 Student Pack
978-0-19-452804-7
Level 1 of the Smart Talk Student Pack includes the Student Book/Workbook and On...

Teacher's Pack
978-0-19-452808-5
Level 1 of the Smart Talk Teacher's Pack includes the Teacher's Guide, Classroom...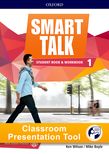 Smart Talk Level 1 Classroom Presentation Tool
978-0-19-452811-5