Smart Talk Level 2 Teacher's Pack

Smart Talk Level 2 Teacher's Pack
New Edition
Ken Wilson and Mike Boyle

| | |
| --- | --- |
| Format: | Mixed media format |
Level 2 of the Smart Talk Teacher's Pack includes the Teacher's Guide, Classroom Presentation Tool and access code to the Online Practice, with access to the Teacher's Resource Center
All the tools you need to start teaching straight away!

Teachers can plan lessons easily with the Teacher's Guide, including a summary of all the lessons within the unit at the beginning.

Each activity has step-by-step instructions, as well as ideas to help teachers adapt lessons depending on the needs of their class.

The Teacher's Resource Center provides teachers with plenty of support materials including downloadable tests for assessing vocabulary, grammar, reading, writing, listening and speaking throughout the term.

The Classroom Presentation Tool makes heads-up lessons easy. Play audio and video straight from the Student Book page, mark answers one at a time, and make notes and highlights - all available both online and offline, and across devices.
This pack includes:
Teacher's Guide
Online Practice
Teacher's Resource Center
Classroom Presentation Tool
Teacher's Guide includes step-by-step instructions and answers for each activity.
Extra ideas on lesson adaptation in the Teacher's Guide.
8 downloadable unit tests, and a midterm test and a final test per level available through the Teacher's Resource Center.
Speaking practice worksheets, video worksheets and Grammar Powerpoints available through the Teacher's Resource Center.
Classroom Presentation Tool allows for easy, fun, heads-up lessons, with audio and video played straight from the Student Book page.
Use the Classroom Presentation Tool across devices, both online and offline.
This course gives you everything you need for smart teaching, smart learning and smart talking!

With the same simple formula in each lesson teachers can familiarise themselves quickly with the approach and teach straight off the page. No advance preparation is needed, but there is scope to adapt the lessons if required and plenty of ideas for extra activities in the Teacher's Guide.

Lessons move from language introduction, to controlled use, down to freer use of language at the bottom of the page, so each lesson is easy to follow, and gives students the tools they need to use English confidently.

Clear, simple learning outcomes at the end of every unit are presented in 'Now I can' boxes – encouraging students to self-assess their progress, and increase their confidence.

Smart Talk's communicative focus means conversation pages focus on getting students speaking everyday English. The conversation contextualises the unit vocabulary and introduces grammar in a meaningful setting, showing students how the langauge can be used in a real life setting.

Speaking pages at the end of every unit are all about fun, communicative exercises that strengthen students' fluency. Students are encouraged to continue researching the topic online, applying the unit topic to real-life scenarios and encouraging independent learning.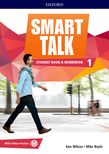 The course that gets older teens speaking everyday English with confidence.