Solutions Advanced Student's Book and Online Practice Pack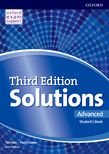 Solutions Advanced Student's Book and Online Practice Pack
Third Edition
| | |
| --- | --- |
| Format: | Mixed media format |
With 100% new content, the third edition of Oxford's best-selling secondary course offers the tried and trusted Solutions methodology alongside fresh and diverse material that will spark your students' interest and drive them to succeed.
The Student's Book and Online Practice can be used alongside each other to keep students of all abilities fully engaged and motivated.

The Solutions Student's Book is packed full of interesting content. Each unit consists of eight lessons, all of which focus on a particular skill, including vocabulary, grammar, reading, speaking, and writing.

The Online Practice component of Solutions offers an array of digital resources; videos, vlogs and interactive elements in order to bring the topics to life. Students can gain instant feedback and marking in order to track their progress and can use the online element in the classroom or on the move.
Student Book: Specific listening and word skills lessons, to help develop well-rounded, confident communicators.
Student Book: Additional resources, including exam skills trainer sections and extra speaking practice help consolidate what students have covered in the lessons.
Student Book: Exam skills trainer sections prepare students for typical school-leaving/Cambridge tasks, and provide them with the language, strategies, and exam skills they need to achieve success.
Student Book: Culture Bank includes 9 ready-to-use culture lessons linked to the topic and language of the main units, providing extra reading and listening practice.
Online Practice: A particular focus on more in-depth practice of grammar, vocabulary, reading, writing, listening, and speaking skills.
Online Practice: Media-rich content (vox pops, vlogs, grammar animations) with interesting and engaging topics and texts.
Online Practice: Automatic marking with instant feedback, and progress tracked in the gradebook to save time.
Online Practice: Content aligned to the CEFR and the Solutions syllabus which complements and extends the contents of the book.
The Solutions approach to teaching and learning English is based on the 'motivate, activate, achieve' objective.Motivate
Interesting and diverse content keeps students fully engaged and motivated
Create inspiring lessons with a wealth of additional resources, including optional lesson openers, culture lessons with DVD clips, and project work
'I can' statements and unit reviews encourage students to reflect on their progress, and recognise their achievements
Activate
New comprehensive listening syllabus activates every student, whatever their level, and helps to develop confident communicators
Supported approach to speaking and writing build students' confidence
New word skills lessons encourage students to use new vocabulary
Achieve
Regular exam practice and preparation activities, as well as specific 'exam skills trainer' sections in the student's book, ensure that students are well prepared for their exams
Critical thinking and project work develops skills for the real world
Skills development and recycling new language helps every student succeed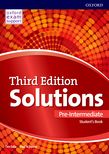 A new edition of the popular English course for teenagers, based on the tried and trusted Solutions methodology