Solutions Elementary Workbook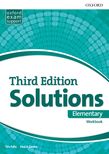 Solutions Elementary Workbook
Third Edition
With 100% new content, the third edition of Oxford's best-selling secondary course offers the tried and trusted Solutions methodology alongside fresh and diverse material that will spark your students' interest and drive them to succeed.
ISBN:

978-0-19-456186-0

Pages:

128

Binding: Paperback
Dimensions: 297x210 mm
The Solutions Workbook is the perfect partner to the Student's Book, and helps consolidate the material taught in class. It contains further lesson-by-lesson practice for students to complete in their own time, as well as reference material for those who need extra support.

With the audio available online, students can benefit from extra listening practice, and can use the unit review sections to assess their own progress and build confidence.
Further lesson-by-lesson practice of the material taught in class
More listening practice, with the audio available to download from the Student's Website.
Vocab Boost! Provides vocabulary learning tips and activities to support students and encourage autonomous learning.
Unit Reviews to develop students' awareness of their progress.
Self-evaluation 'Self-checks' with 'I can ...' statements at the end of every Unit Review to promote conscious learner development.
Exam Skills Trainers to practise and prepare for exams including practise of exam techniques and tasks.
NEW Cumulative Reviews consolidate learning as students progress through the level.
Use of English practice in all Unit Reviews and Cumulative Reviews.
Irregular verbs list for reference.
Writing Bank to help students write the text types they will meet in their exam, for example, an informal letter, an email, a blog post, or an opinion essay. For each text type, there is a model answer with tips on structure and content.
Functions Bank brings together all the key functional language from each unit
The Solutions approach to teaching and learning English is based on the 'motivate, activate, achieve' objective.Motivate
Interesting and diverse content keeps students fully engaged and motivated
Create inspiring lessons with a wealth of additional resources, including optional lesson openers, culture lessons with DVD clips, and project work
'I can' statements and unit reviews encourage students to reflect on their progress, and recognise their achievements
Activate
New comprehensive listening syllabus activates every student, whatever their level, and helps to develop confident communicators
Supported approach to speaking and writing build students' confidence
New word skills lessons encourage students to use new vocabulary
Achieve
Regular exam practice and preparation activities, as well as specific 'exam skills trainer' sections in the student's book, ensure that students are well prepared for their exams
Critical thinking and project work develops skills for the real world
Skills development and recycling new language helps every student succeed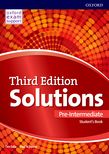 A new edition of the popular English course for teenagers, based on the tried and trusted Solutions methodology