Solutions Pre-Intermediate Student's Book e-Book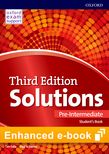 Price:
GBP 20.34
+ Sales Tax
Solutions Pre-Intermediate Student's Book e-Book
Leading the way to success
Third Edition
Paul A Davies, Tim Falla
With 100% new content, the third edition of Oxford's best-selling secondary course offers the tried and trusted Solutions methodology alongside fresh and diverse material that will spark your students' interest and drive them to succeed.
ISBN:

978-0-19-451077-6

Price: GBP 20.34 + Sales Tax
The Solutions Student's Book e-Book allows students to access all the content from the Student's Book on their tablet or computer. Audio is built-in and can be accessed straight from the page. Students can control the speed of the audio, allowing them to listen at the speed that is right for them. The repeat, record and compare feature allows students to record their own speaking so that they can easily compare their pronunciation to the original audio. Built in tools like the pen, sticky notes and highlighter mean students can make notes and personalise their e-book.

Available for iPad and tablets for Android via the Oxford Learner's Bookshelf app and online on a computer at www.oxfordlearnersbookshelf.com.Learners study online or on a tablet and their work syncs between devices.

Institutions can buy access codes for their students. Find out more.
Improve pronunciation: Students can repeat audio, record themselves and compare to original
Improve listening: Integrated audio which students can slow down to hear each word clearly
Video: Videos are available in the Workbook e-book meaning students can do video worksheets as homework
Personalise the e-book: Students can save written or spoken notes anywhere on the page and use the pen tool to draw and highlight
Easy to get around: Using bookmarks, jump to page, and thumbnail sorter
Access the e-book on a tablet or online on a computer: Work is synced between devices
Automatic marking: Automatic marking on Workbook activities provides instant feedback
The Solutions approach to teaching and learning English is based on the 'motivate, activate, achieve' objective.Motivate
Interesting and diverse content keeps students fully engaged and motivated
Create inspiring lessons with a wealth of additional resources, including optional lesson openers, culture lessons with DVD clips, and project work
'I can' statements and unit reviews encourage students to reflect on their progress, and recognise their achievements
Activate
New comprehensive listening syllabus activates every student, whatever their level, and helps to develop confident communicators
Supported approach to speaking and writing build students' confidence
New word skills lessons encourage students to use new vocabulary
Achieve
Regular exam practice and preparation activities, as well as specific 'exam skills trainer' sections in the student's book, ensure that students are well prepared for their exams
Critical thinking and project work develops skills for the real world
Skills development and recycling new language helps every student succeed
The licence period for this product is perpetual.
The use of this product is subject to the Oxford Learners Bookshelf
terms and conditions
.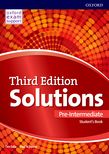 A new edition of the popular English course for teenagers, based on the tried and trusted Solutions methodology