Solutions Upper-Intermediate Workbook Classroom Presentation Tool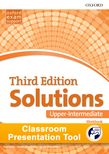 Price:
GBP 29.99
+ Sales Tax
Solutions Upper-Intermediate Workbook Classroom Presentation Tool
Leading the way to success
Third Edition
With 100% new content, the third edition of our best-selling secondary course offers the tried and trusted Solutions methodology alongside fresh and diverse material that will drive your students to succeed.
ISBN:

978-0-19-420906-9

Price: GBP 29.99 + Sales Tax
Deliver heads-up lessons with the Workbook Classroom Presentation Tool, a resource providing course content on screen with an extensive range of digital features.

Featuring interactive activities that fill the screen, Classroom Presentation Tool encourages all students to participate and feel involved in the lesson, boosting engagement and motivation.

It's easier than ever to run smooth lessons with embedded audio and video, in-built annotation tools and additional activities to consolidate your students' learning.
Classroom Presentation Tool
Solutions Upper-Intermediate Workbook content available on screen.
Deliver heads-up lessons by bringing easy-to-use digital features to the front of the classroom.
Launch activities in full-screen mode to focus your students' attention on a single activity.
Plan your lessons wherever you are. Add text or audio notes to a page, save your web links, then open them in class - all with one account.
Feel confident teaching with technology - use the Classroom Presentation Tool offline or online from your computer or tablet.
Play audio and video at the touch of a button and launch activities straight from the page for classes that run smoothly - every time.
The Solutions approach to teaching and learning English is based on the 'motivate, activate, achieve' objective.Motivate
Interesting and diverse content keeps students fully engaged and motivated
Create inspiring lessons with a wealth of additional resources, including optional lesson openers, culture lessons with DVD clips, and project work
'I can' statements and unit reviews encourage students to reflect on their progress, and recognise their achievements
Activate
New comprehensive listening syllabus activates every student, whatever their level, and helps to develop confident communicators
Supported approach to speaking and writing build students' confidence
New word skills lessons encourage students to use new vocabulary
Achieve
Regular exam practice and preparation activities, as well as specific 'exam skills trainer' sections in the student's book, ensure that students are well prepared for their exams
Critical thinking and project work develops skills for the real world
Skills development and recycling new language helps every student succeed
The licence period for this product is perpetual.
The use of this product is subject to the Oxford Learners Bookshelf
terms and conditions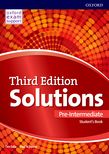 A new edition of the popular English course for teenagers, based on the tried and trusted Solutions methodology