Metro Level 2 Teacher's Guide with Digital Pack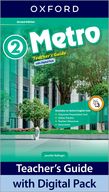 Metro Level 2 Teacher's Guide with Digital Pack
New Edition

Second Edition
| | |
| --- | --- |
| Format: | Mixed media format |
Take a smooth ride with Metro Second Edition's interesting, real-life topics, engaging students with learning English, with easy-to-teach lessons.
Print Teacher's Guide and 4 years' access to Classroom Presentation Tool, Online Practice, Teacher Resources, and Assessment.

Teach. Practice. Track. Assess. The Teacher's Guide and Digital Pack give you everything you need to create flexible lessons that work for your students.

Metro Second Edition includes a powerful Assessment for Learning package to help you propel learners forward. Our lesson features, teacher's notes and tests are focused on helping learners to continually reach for their goals, accelerate their progress, and go further with support for regular informal assessment and effective feedback.

Professional Development support helps you get started with Metro Second Edition. Watch video tutorials to set up your course, access focus and position papers for expert advice and bite-sized guidance on key issues and take short professional development modules for an introduction to key methodologies for your course: Global Skills, Video in ELT and English Pronunciation.

All your digital course materials and resources are accessed via the Oxford English Hub - a launchpad for learning: www.oxfordenglishhub.com.
This pack includes:
Teacher's Guide (print)
Teacher's Guide (PDF- 4 years' access)
Online Practice (Teachers - 4 years' access)
Student Book and Workbook Classroom Presentation Tool (4 years' access)
Teacher Resources (4 years' access)
Assessment (4 years' access)
Engage students with fun, quirky content with a real-world focus that reflects teenagers' lives.
Develop communication skills and motivate students through each unit with integrated videos from real teenage protagonists using real-world English.
Appeal to students' curiosity with NEW project lessons that develop critical thinking and collaborative skills with a structured approach.
Make Global Skills accessible to every student with NEW easy-to-teach speaking lessons.
'Your turn' activities provide opportunities for students to personalize their learning by using the grammar and vocabulary to talk about their own lives.
Online Practice gives students the tools and flexibility to improve their performance through fun activities at the right level of challenge, inspiring learning outside the classroom.
Grammar and vocabulary methodology levelled to the CEFR and based on the NEW Oxford English Language Framework.
Frame your lessons within a real-life context
Fun, quirky content with a real-world focus reflects teenagers' lives that will engage your students
Real and 'googleable' topics encourage student curiosity, delivering English success for the social media generation within the context of the wider world.
Real teen protagonists lead students through each unit to provide context and guidance through integrated videos. The videos use topical language to develop student communication skills.
Real-life language motivates students to understand English in real terms, allowing them to contextualize their learning to their own lives.
Start every class with confidence
Teach consistently effective lessons in any situation including online or face-to-face, with easy-to-follow units, worksheets, and tests, providing all the resources you need at your fingertips.
Assessment for Learning: Help learners to accelerate their progress and achieve their goals with a set of tools, tests, and guidance at each stage of the learning journey.
Make learning online easy with Online Practice. Students have the tools and flexibility to improve their performance through fun activities at the right level of challenge, inspiring learning outside the classroom. With Online Practice it is simple to set homework, track student progress, and manage home-learning with confidence.
Save preparation time and energy with easy-to-use content, clear signposting, and an intuitive layout.
Teach your class with a fresh and relevant course
Global Skills are embedded into a new style of easy-to-teach speaking lessons which make them easily accessible to every learner.
New project lessons appeal to students' curiosity to develop their critical thinking and group working skills using a structured, signposted approach.
Part of... Metro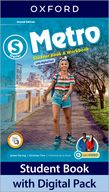 Start every class with confidence.