Metro Level 3 Student's Online Practice Pack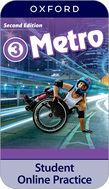 Metro Level 3 Student's Online Practice Pack
New Edition

Second Edition
Take a smooth ride with Metro Second Edition's interesting, real-life topics, engaging students with learning English, with easy-to-teach lessons.
ISBN:

978-0-19-426699-4

Licence Length:

24 months
Metro Second Edition motivate students to engage with English in the real world. Fun topics and integrated videos with real teen protagonists guide students to develop communication skills, while new project lessons develop curiosity and group working skills.

Online Practice offers interactive activities for grammar, vocabulary, and skills work. The Online Practice Pack includes access to Online Practice activities and Student Resources including video, audio and wordlists.

All digital course materials and resources are accessed via the Oxford English Hub - a launch pad for learning. www.oxfordenglishhub.com.
Online Practice (2 years' access)
Student Resources (2 years' access)
Save time with ready to go homework activities and extra practice aligned to your course.
Set clear practice by managing what your students see - lock and unlock units, lessons or individual activities.
Engage your students with videos, audio and various interactive activities with instant automated marking and awards.
Track and analyse your students' progress and scores using the integrated Gradebook with a variety of easy to use, visual reports that can be shared with students and parents.
Manage home-learning with confidence - quickly create classes, enrol your students, assign practice and communicate via the messages function and discussion boards.
Easy to access on desktop, tablet or mobile phone.
All digital course materials and resources are accessed via the Oxford English Hub - a launch pad for learning. www.oxfordenglishhub.com.
Frame your lessons within a real-life context
Fun, quirky content with a real-world focus reflects teenagers' lives that will engage your students
Real and 'googleable' topics encourage student curiosity, delivering English success for the social media generation within the context of the wider world.
Real teen protagonists lead students through each unit to provide context and guidance through integrated videos. The videos use topical language to develop student communication skills.
Real-life language motivates students to understand English in real terms, allowing them to contextualize their learning to their own lives.
Start every class with confidence
Teach consistently effective lessons in any situation including online or face-to-face, with easy-to-follow units, worksheets, and tests, providing all the resources you need at your fingertips.
Assessment for Learning: Help learners to accelerate their progress and achieve their goals with a set of tools, tests, and guidance at each stage of the learning journey.
Make learning online easy with Online Practice. Students have the tools and flexibility to improve their performance through fun activities at the right level of challenge, inspiring learning outside the classroom. With Online Practice it is simple to set homework, track student progress, and manage home-learning with confidence.
Save preparation time and energy with easy-to-use content, clear signposting, and an intuitive layout.
Teach your class with a fresh and relevant course
Global Skills are embedded into a new style of easy-to-teach speaking lessons which make them easily accessible to every learner.
New project lessons appeal to students' curiosity to develop their critical thinking and group working skills using a structured, signposted approach.
Part of... Metro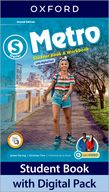 Start every class with confidence.