Bright Ideas Level 4 Class Book e-book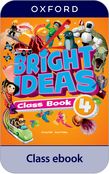 Price:
GBP 18.69
+ Sales Tax
Bright Ideas Level 4 Class Book e-book
Bright Ideas Level 4 provides a flexible package that ensures exam success and encourages students to develop 21st century skills through creative games and activities.
ISBN:

978-0-19-411121-8

Price: GBP 18.69 + Sales Tax
Licence Length:

24 months
Using 'Big Questions' to challenge students and promote the development of 21st century skills in areas such as critical thinking, the course links the classroom with the 'real world' and encourages the sharing of ideas through communication and collaboration.

The Class Book e-book comes to life with extra digital features to engage students and enhance their learning experience including audio, video and interactive activities with automatic marking. Students can study anytime, anywhere.
Enquiry-based method of learning encourages the development of communication, critical thinking, creativity and collaboration.
Online gaming concepts and a fun blogging-style layout stimulates the imaginations of your students and encourages them to actively engage with ideas in a meaningful context.
Extensive exam preparation activities and materials with embedded Cambridge English Qualifications syllabus ensures pupils are fully prepared for exams.
Flexible and comprehensive digital package provides you with rich video content, story animations, and an interactive Classroom Presentation Tool for heads-up lessons that help you get the most out of your class.
Online practice offers students downloadable games and activities and motivates them to connect with English outside the classroom.
Getting students engaged and motivated to learn English is often difficult.

How do you get your students thinking critically? How do you influence them to contribute to class discussion and activities? How do you ensure that they are confident and well prepared for exams?

Bright Ideas uses an enquiry-based approach in order to tap into children's natural curiosity and get them more involved in their own learning. This persuades them to ask their own questions and find their own answers.

Every unit asks students a 'Big Question'. This gets students thinking about the subjects they know and love, such as family, school, and music. As they move through the content in each unit, they are provided with the skills and language necessary to answer the unit's 'Big Question' whilst having fun! This is followed by a 'Big Poll Question' which prompts students to think about the topic on a more personal and evaluative level.

'Think' tasks encourage pupils to apply their own experience and opinions to a particular topic and language practice is provided through songs, stories, and games. Through Online Practice and interactive eBooks containing class activities and homework tasks, students are able to further practice the content of each lesson. Automatic marking and progression tracking tools make it easier for development to be assessed.

The flexible teaching package offers a range of tools and resources to ensure that you are able to create the perfect lesson for your students. The Classroom Presentation Tool with on-screen Class Book and Activity Book provides comprehensive content for teachers to adapt to any teaching situation, class size or ability.

The course provides a flexible, fresh and fun way to teach and learn English and ensures exam success for your students.

An enquiry-based course that links imaginative learning resources with real-world concepts.