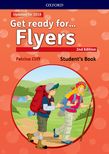 Hello
You can visit our worldwide website for our globally available teaching resources, or visit our local website for for products, events and materials for your area.
Please choose below:
Get ready for…Flyers
Maximize chances of exam success with Get ready for…Starters, Movers and Flyers!
Second Edition
Petrina Cliff and Kirstie Grainger
The Get ready for… series has been updated to reflect the new specifications for the 2018 Cambridge Young Learners English Tests.
Get ready for… is a fun and engaging supplementary series offering comprehensive preparation for the CYLET exams. The series covers all of the grammar, skills, and vocabulary students need to achieve exam success.
Student's Book with downloadable audio
Teacher's Book and Classroom Presentation Tool
Thorough preparation for Cambridge English: Young Learners examinations
Supplements any course book and is ideal for use in class or at home
Full support for teachers with advice on preparing learners for the test
Classroom Presentation Tool puts Student's Book on screen for more interactive teaching
Audio content with the student pack allows learners to practise at home
The Get ready for.. series leads students to success in the Cambridge English Qualifications for Young Learners exams, covering all of the grammar, skills, and vocabulary essential for the test. The course features exam style practice questions and mock tests at the end of each unit, so that learners know what to expect and can sit the test with confidence.

One of the reasons Get ready for… has proved so popular is owing to the fun and engaging nature of the course. A wide variety of activity types keeps students interested, and optional activities and games in the Teacher's Book allow for varied and inspiring lessons.

Get ready for... has been designed to support busy teachers with its clear and concise teaching notes, tips and advice on how to teach exam preparation, and new Classroom Presentation Tool showing content on screen with embedded audio.
For Get ready for…Flyers
(3)